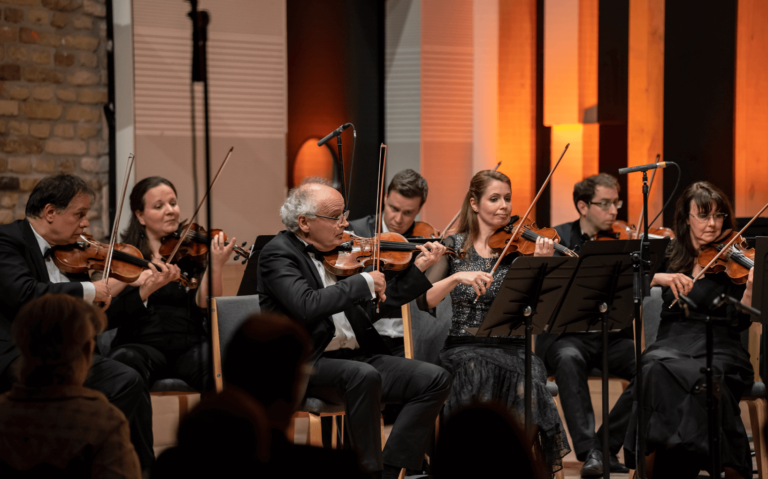 Budapest Strings: Classical Lights 1.
Program:
Wolfgang Amadeus Mozart: Divertimento in F Major, K. 138
Péter Tiszai: Divertimento – Premiere
Bálint Horváth: Omaggi – Premiere
*****

Ferenc Farkas: Old Hungarian Dances
György Orbán: Sopran canto ferma

Featuring:
Budapest Strings
Concert Master: Gabriella Takácsné Nagy
Host: Szabolcs Molnár
The Budapest Strings Chamber Orchestra will continue its series of concerts entitled In the Mirror of Classics at the BMC in the 2022–2023 season. The concert programmes include contemporary pieces – even premieres – alongside historical compositions. This season, the three concerts will feature a couple of historical works, as well as pieces by contemporary Hungarian composers and their student(s). All three living masters in the series (György Orbán, Miklós Csemiczky and János Vajda) are considered to be significant figures of the Hungarian post- and neo-styles, caught on during the 1980s and also referred to as postmodern in Hungarian classical music. The evenings are again hosted by music historian Szabolcs Molnár, a specialist in contemporary classical music, who is also known as a media personality and teacher.
In this season's first concert, after the three-movement Divertimento in F major (1772) composed by the teenage Mozart, you can hear Ferenc Farkas' popular Old Hungarian Dances from the 17th century. The dances, which recall and recreate old musical styles, have been arranged and orchestrated in many different ways in performance and pedagogical practice, although the very first version in five movements was written for piano in 1943. The concert will conclude with a premiere by Transylvanian-born György Orbán (*1947). The young composers of the evening, Péter Tiszai (*1973) and Bálint Horváth (*1986), were both his students.
Tickets are available for 3000 HUF on the spot,
online at jegy.hu,
and at InterTicket Jegypont partners across Hungary.