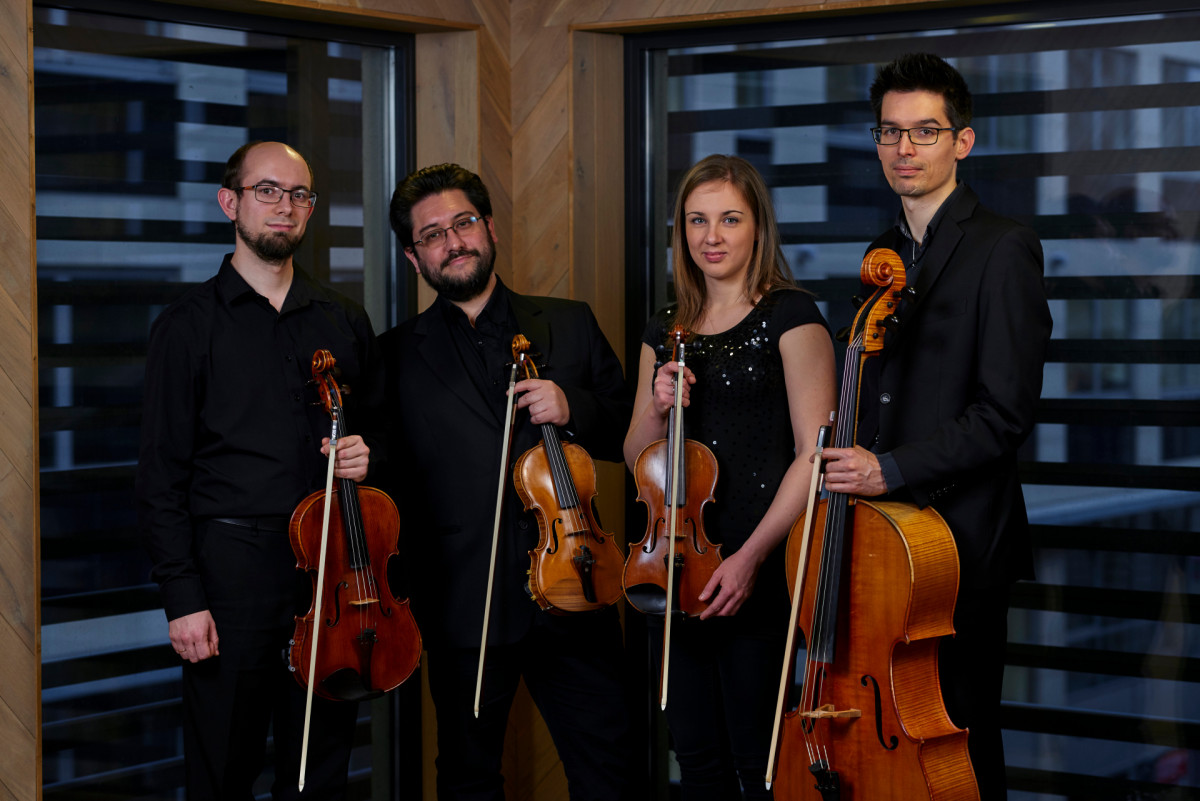 Classicus Quartet: Das Wohltemperierte Streichquartett V. – Intermezzo
Program:
Igor Stravinsky: Double Canon, 'in memoriam Raoul Dufy' (1959)
Igor Stravinsky: Concertino for String Quartet (1920)
Anton Webern: Six Bagatelles for String Quartets Op.9
Zoltán Kodály: String Quartet No. 2. Op. 10
***
Igor Stravinsky: Three Pieces for String Quartet (1914, rev 1918)
Péter Eötvös: Joyce (2017)
Featuring:
Classicus Quartet:
József Rácz – violin
Réka Baksai – violin
Péter Tornyai – viola
Tamás Zétényi – cello
–
Éva Osztrosits – violin
Péter Szűcs – clarinet
Introduced by music historian Zoltán Farkas
Sorozatunk ötödik koncertjének címe Intermezzo — a műsor most nem egy hangnem köré szerveződik, mint a megelőző koncerteken, hanem a XX. század vonósnégyes termésének olyan műveiből válogatunk, amelyek már nem kifejezetten egy tonalitásban íródtak, vagy kifejezetten a tonalitás határait feszegetik.
Koncertünkön Sztravinszkij mindhárom vonósnégyesre írt műve megszólal, a szerző "orosz" korszakának egy remekbe szabott miniatűrje, a Trois piéces, valamint az 1920-ban íródott Concertino, amelyben már az első pillanatban feszültségbe kerül egy C-dúr és egy H-dúr skála, illetve a festőművész Raoul Dufy emlékére írt Double Canon, amely pedig egy dodekafon kompozíció.
Kodály Zoltán második vonósnégyesében egy rejtett program sejlik fel: Kodály reflexiója a háborúra. Zárószámunk pedig egy magyarországi bemutató, Eötvös Péter Joyce című klarinétötöse. A hét tételes mű Joyce Ulyssesének részletei alapján íródott, amelyek játékos nyelvhasználata villódzóan humoros kompozíciót ihletet.
Tickets are available for 2000 HUF on the spot,
online at jegy.hu,
and at InterTicket Jegypont partners across Hungary.
℗ BMC