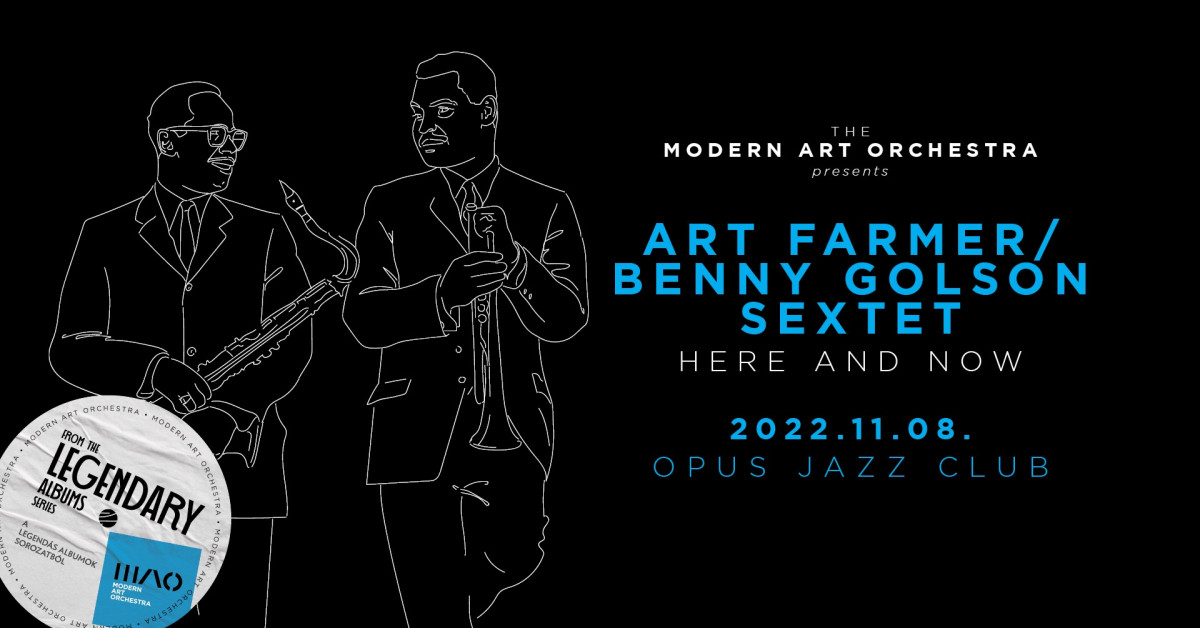 MAO Legendary Albums | Art Farmer/Benny Golson Sextet: Here and Now (HU)
Featuring:
Kornél Fekete-Kovács - trumpet
Attila Korb - trombone
Kristóf Bacsó - saxophone
Gábor Cseke - piano
József Barcza Horváth - double bass
László Csízi - drums
Modern Art Orchestra's Legendary Albums series presents the most important and unique albums of jazz literature, performed by MAO. By learning and playing these compositions and arrangements, the musicians are paying tribute to the jazz legends and are undergoing an intense process of musical improvement. The band absorbs the material of the original recordings, sticking to the arrangements, forms and compositional features. As improvisation is the blood of jazz, solos are invented by the players at the moment. Due to the respect shown towards the original conceptions of the legendary composers and the level of craftsmanship known from Modern Art Orchestra, the Legendary Albums series both brings you the essence of jazz tradition and guarantees a fresh musical experience.
Legendary Albums - Art Farmer/Benny Golson Sextet: Here and Now
The Jazztet was founded in 1959 by Art Farmer trumpetist and Benny Golson saxophonist, also the only two members of the sextet who remained from the beginning to the end. Despite the changes in the rhythm section and trombonist positions, the band was able to launch the careers of jazz musicians like McCoy Tyner and Grachan Moncur III, of whom the latter is present on Here and Now as well, bringing an original composition with him.
The 1962 album has but absolutely attractive numbers to show, which makes its lineup quite homogenous - in the best possible sense. Although there is only one truly famous song on the record, which goes by the name of Whisper Not - part of the soundtrack of United States history, without a doubt, all numbers feel familiar as they are written with tremendous taste and intellect. The fact that 4 out of 6 band members noted compositions on the record, makes it even more interesting.
It is also the sensual and instinctive energy that tends to mediate through the best swinging songs of jazz history. The musical language of Here and Now suggests wisdom and elegance, but curiosity and playfulness, too. It doesn't try to hide the meaning of the human experience, which makes it utterly comforting to listen to. Here and Now is one of the last publications of the first generation Farmer/Golson Sextet. It is a complete result of a genuinely earthy concept of jazz history.
2-person season tickets for 4 concerts are available for 20.000 HUF on the spot and online at bmc.jegy.hu/seasonticket.
Tickets are available for 2900 HUF on the spot, online at bmc.jegy.hu, and at InterTicket Jegypont partners across Hungary.
Table reservations are automatically added during ticket purchase.
For the best dining experience please arrive around 7pm.
We hold reservations until 8pm.
For more information, please call +36 1 216 7894
℗ BMC