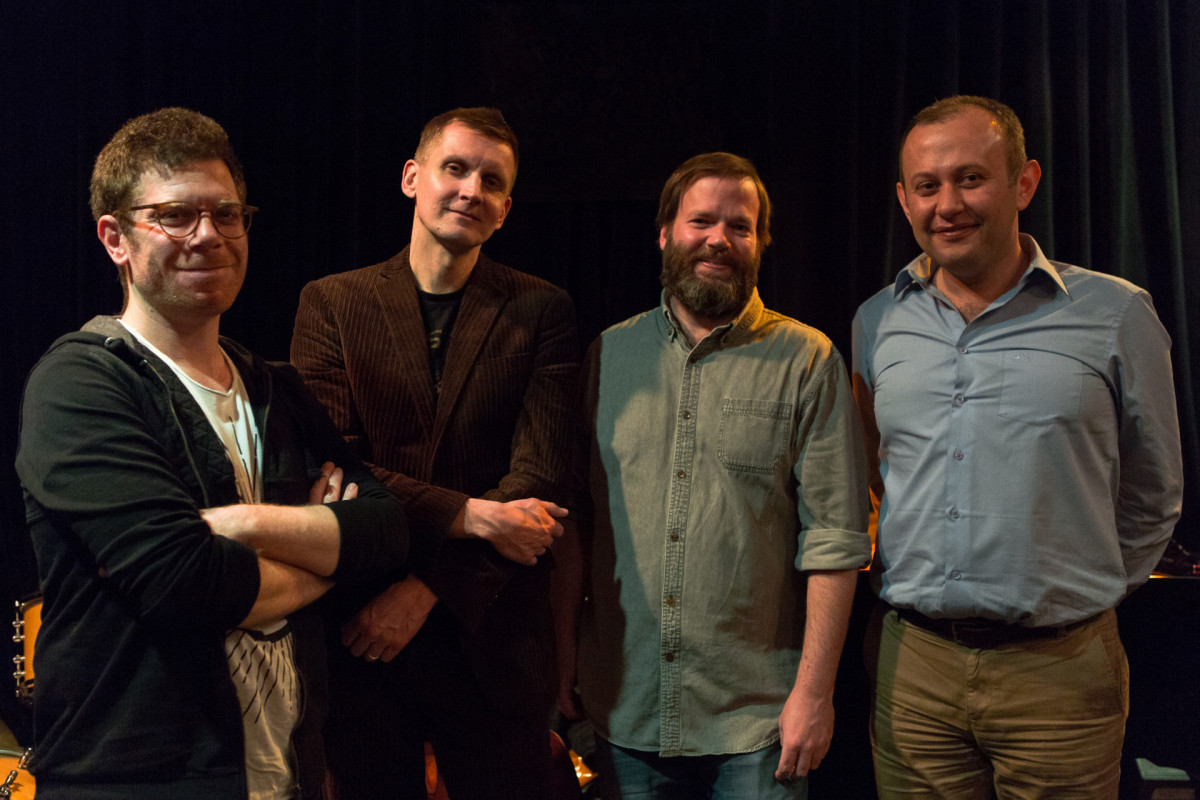 Gül Baba Jazz Nights | Michael Schiefel Istanbul Quartet (DE/TR/GR)
Featuring:
Michael Schiefel - vocals
Kaan Bıyıkoğlu - piano
Apostolos Sideris - double bass
Ekin Cengizkan - drums
Michael Schiefel, one of Germany's most original singers, have already performed several times at the Opus Jazz Club and is also featured on BMC Records. He lived as a resident scholar at the Tarabya Culture Academy for six months in Istanbul and composed a jazz program for piano trio and vocals. He joined forces with the renowned pianist Kaan Bıyıkoğlu, double bass player Apostolos Sideris and drummer Ekin Cengizkan to create Michael Schiefel's Istanbul Quartet with a repertoire full of originals. As Michael puts it, "all songs are inspired by the city of Istanbul, by dolphins in the Bosphorus, tea gardens, cats and dogs, stomach aches and tenderness."
Kaan Bıyıkoğlu had his studies in classical piano performance at Başkent University State Conservatory with David Ezra Okonşar. Around that time he started performing with some of the best musicians from the Turkish jazz scene like Tuna Ötenel, Yıldız İbrahimova, Sibel Köse, and Kürşat And. Kaan moved to the Netherlands in 2006 to continue his jazz education where he studied jazz piano and harmony with Kris Goessens and Rob van Bavel, and composition and orchestration with Ilja Reijngoud at the Rotterdam Conservatorium. He attended to the master classes and workshops by Barry Harris, Charlie Haden, Peter Erskine, Jason Moran, Miguel Zenon, Antonio Farao, Baptiste Trotignon, Luis Perdomo, Dado Morani, and Misha Alperin. He participated in numerous festivals, concerts, radio and television broadcasts, and album recordings in Turkey, the Netherlands, Belgium and Germany. After returning to Turkey in 2013 and briefly teaching piano and harmony at the Jazz Department of Ankara State Conservatory, Kaan moved to İstanbul and established himself as one of the most sought after pianists in the Turkish jazz scene.
---
Gül Baba Heritage Foundation is responsible for preserving, maintaining, utilizing and operating Gül Baba's Tomb (Türbe) and its surroundings as an outstanding cultural value. The Foundation's responsibility is to improve Hungarian-Turkish cultural relations by organizing professional and cultural events in both countries.
Through the activities above mentioned, Gül Baba Heritage Foundation is dedicated to build a solid cultural bridge that will bring the two nations together more frequently and more closely.
The event is supported by the Gül Baba Heritage Foundation and the Ministry or Foreign Affairs and Trade.
Tickets are available for 1800 HUF on the spot, online at bmc.jegy.hu,
and at InterTicket Jegypont partners across Hungary.
Please don't forget to reserve a table after purchasing your ticket,
as seating at Opus Jazz Club can only be guaranteed in this case.
We hold reservations until 8pm. Remaining tables are assigned on a first-come, first-served basis.
For reservations, please call +36 1 216 7894 and have your ticket or voucher at hand.
℗ BMC