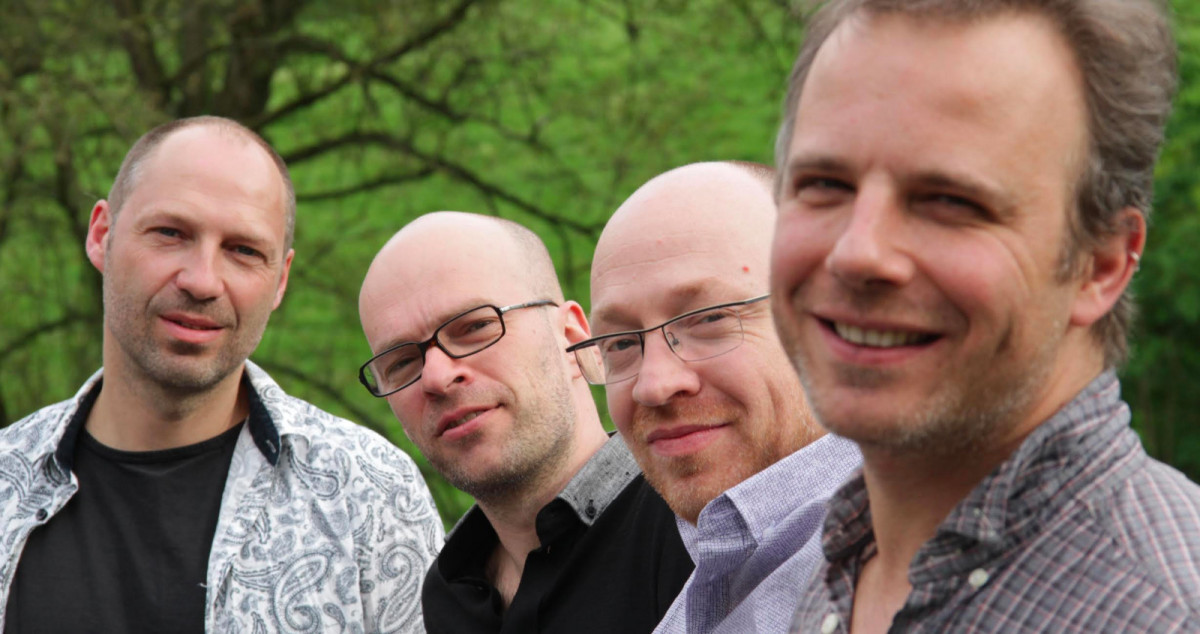 Flanders on the Move | Orchestra Nazionale della Luna (B/FIN/F)
Featuring:
Manuel Hermia - saxophones, flute, bansouri
Kari Ikonen - piano, moog
Sébastien Boisseau - double bass
Teun Verbruggen - drums
Founded by its chief conductors Manuel Hermia and Kari Ikonen in 2015, Orchestra Nazionale della Luna has quickly become one of the most important orchestras on the Moon. The quartet's diverse and highly original repertoire, the inventive and energetic way of playing of the leaders, based on the creativity of the rhythm provided by Sébastien Boisseau and Teun Verbruggen are fascinating lunatics and jazz lovers all over the Moon, and even on Earth.
"Those who believe that everything has been said about the sax-piano-bass-drums quartet have not yet heard Orchestra Nazionale Della Luna: these four will shake their ears!" Jean-Pierre Goffin, Jazzhalo.be
Manu Hermia is well known for his eclecticism: Coltranian with Rajazz, bop with his own quintet, world music with Murmure of the Orient and electro-globalist with Slang. But deep in his heart he has also a libertarian temptation as his trio with Manolo Cabras and Joao Lobo with the album Austerity, or his meeting with French cellist Valentin Ceccaldi and drummer Sylvain Darrifourq on the album God At The Casino proves this. No wonder we find him in this colorful orchestra.
Recipient of the 2013 Yrjö Award for Finnish Jazz Musician of the Year, Master of Music, pianist, moogist and composer Kari Ikonen is currently active with his own Kari Ikonen Trio and several other bands and projects such as Quartet Ajaton and Trio Toffa. He has worked with the likes of Louis Sclavis, Lee Konitz, Bob Moses, Ingrid Jensen, Magnus Broo, Vincent Courtois and Ron McClure. Kari has performed in South Korea, Japan, USA, Armenia, Turkey, Russia and 23 European countries. His playing and compositions have been recorded for more than 40 albums, five of these under his own name.
Sébastien Boisseau is one of the big names of the double bass on the European scene. After working on the instrument with Jean-François Jenny-Clark, he joined saxophonists Alban Darche and Matthieu Donarier, Martial Solal, Gábor Gadó, Belgians from Mâäk's Spirit, Daniel Humair's Baby Boom, the European Jazz Ensemble and a prestigious quartet with Joachim Kuhn, Christophe Monniot and Christophe Marguet (memorable concert at the Jazz Brugge Festival and CD on BMC Records).
Teun Verbruggen is one of the most active drummers on the Belgian scene: light-weight play for Jef Neve and Igor Gehenot's piano-trios, but also libertarian adventures with Flat Earth Society, Othin Spake with guitarist Mauro Pawlowski or The Bureau of Atomic Tourism with Marc Ducret and American guests such as saxophonist Andrew d'Angelo.
"We are dealing here with a true European-style formation, a perfectly welded quartet, based on a constant interactivity between the two soloists, but also within the rhythm section: Boisseau and Verbruggen are constantly at work, listening to each other, and sharing the obvious pleasure of playing. A music that carries you away like a tidal wave. To discover also in concert!" Claude Loxhay, JazzAround
manuel-hermia.com
kariikonen.com
sebastienboisseau.com
teunverbruggen.com
Tickets are available for 1500 HUF on the spot,
online at jegy.hu, and at InterTicket Jegypont partners across Hungary.
Please don't forget to reserve a table after purchasing your ticket, as seating at Opus Jazz Club can only be guaranteed in this case.
We hold reservations until 8pm. Remaining tables are assigned on a first-come, first-served basis.
For reservations, please call +36 1 216 7894 and have your ticket or voucher at hand.
℗ BMC