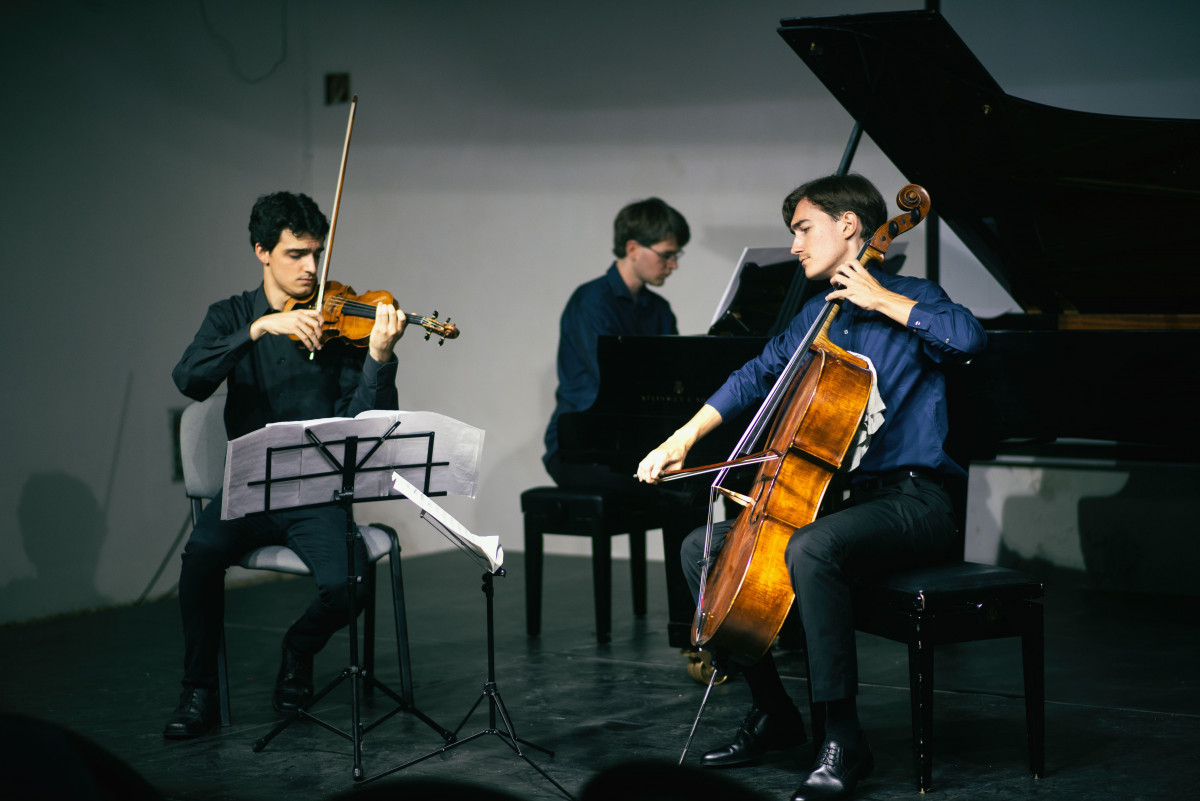 Cancelled | Ránki – Stark – Devich: Piano Trios IV. | Debussy and Ravel
Program:
Claude Debussy: Sonata for cello and piano
Claude Debussy: Sonata for violin and piano
Maurice Ravel: Trio in A minor

Featuring:
János Mátyás Stark – violin
Gergely Devich – cello
Fülöp Ránki – piano
Dear Ticket Holders,
We regret to inform you that the concert on 1 December 2023 at BMC featuring the Ránki – Devich – Stark Trio has been cancelled due to health issues. The new date & time of the concert is 14 January 2024 at 18:00.
Tickets for 1 December will be automatically valid for the new 14 January 2024 date. If you prefer to ask for a refund instead, please email us at info@bmc.hu by 7 January 2024.
We apologise for the inconvenience and we are grateful for your understanding.
Budapest Music Center
---
The 2023 chamber music series by Fülöp Ránki, János Mátyás Stark and Gergely Devich will crown each of the four seasons with a concert at the BMC Concert Hall. The young artists will perform a selection of outstanding masterpieces from the piano trio repertoire, from Mozart to Ravel. The first three concerts feature two trios, sometimes highlighting the diversity and variety of the works, sometimes their commonalities, while the fourth programme includes a duo sonata, a testament to the musicians' long-standing duo collaborations.
---
The two sonatas were written during perhaps the most difficult period of Debussy's life, between 1915 and 1916, when the composer was consumed by the horrors of war on the outside and his worsening illness on the inside. The tone of the Sonata for Cello and Piano is modern and almost coarse, while the Sonata for Violin and Piano – Debussy's last completed work – has both a playful and painful character.
Ravel's most ambitious chamber work was written on the eve of the First World War – in a hurry, because the composer wanted to enlist as soon as possible. The Trio in A minor, a work of sublime skills and mature technique, draws inspiration from a wide range of sources from Malay poetry to Basque melodies, but Ravel has cast his exotic influences in a traditional, austere form. The piano's percussive effects are constantly juxtaposed with the strings' sustained tones, while shimmering colours and flickering shadows catch the listener's attention.
---
Tickets are available for 3000 HUF on the spot,
online at jegy.hu,
and at InterTicket Jegypont partners across Hungary.
℗ BMC