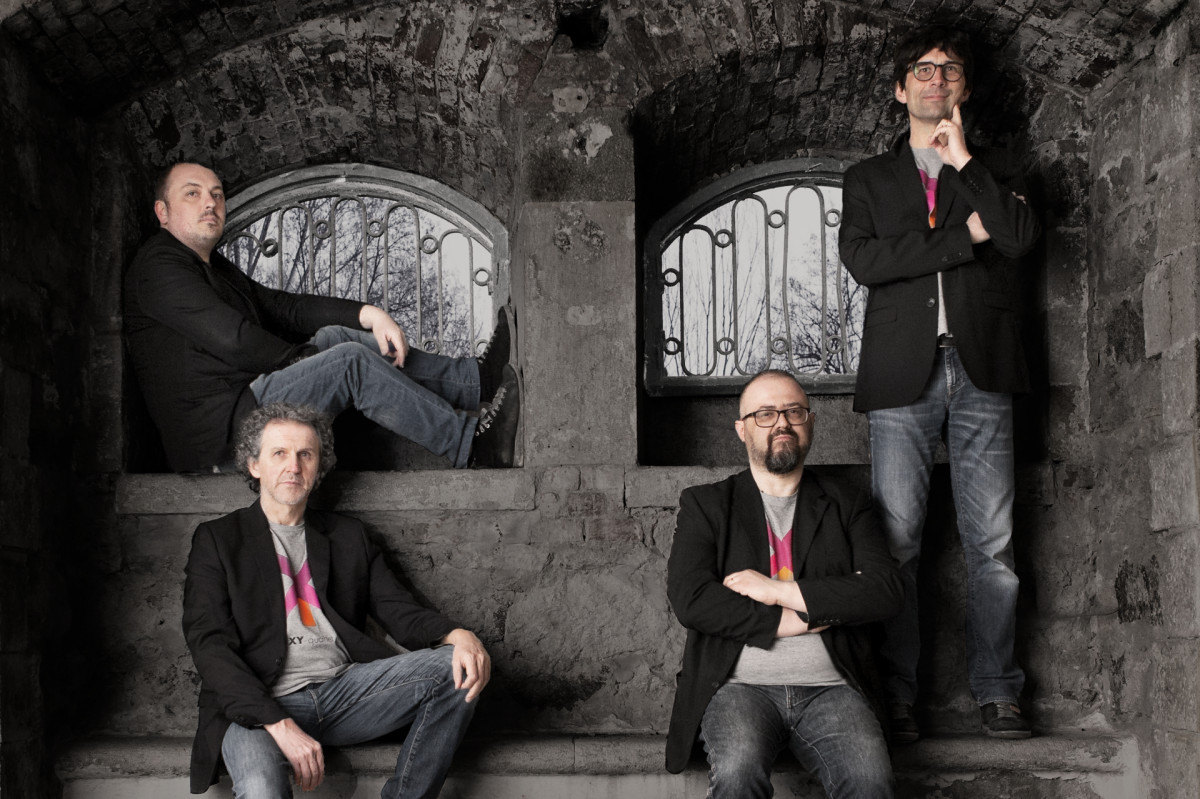 Featuring:
Nicola Fazzini - alto sax
Alessandro Fedrigo - acoustic bass guitar
Saverio Tasca - vibes
Luca Colussi - drums
Founded in 2011 in North Italy, XY Quartet is a fusion of saxophonist Nicola Fazzini and bass player Alessandro Fedrigo. They create an original, exciting and innovative music with Saverio Tasca at the vibes and Luca Colussi at the drums.
XY Quartet project passes through different kinds of music and artistic languages updating them to contemporary. The group explores new ways of composing with a quirk approach. For XY, to restructure the music form is an ethics to build-up the beyond-jazz. The "X" by Fazzini and the "Y" by Fedrigo represent two approaches, two ideas, two complementary artistic identities but also two instruments, like the alto sax and the acoustic bass guitar. Together they're the 'double F' of the title Idea F, their first album released by Italian label nusica.org. The CD has been awarded one of the best 100 albums of 2012 by JAZZiT Magazine in Italy and was positively received by the critic, allowing the quartet to play in prestigious clubs and festivals. Idea F introduced some techniques of the 20th century contemporary music to jazz music but reworked them finally offering a new genre.
In May 2014 nusica.org announced the release of XY, the homonymous second album which has been realized thanks to a crowd-funding campaign. XY believes also in 'open content philosophy' and makes both music and scores available on nusica.org website; this feature expresses and supports the constant 'work in progress' of the band. On the very same year XY was awarded second best Italian group and sixth best Italian album by Musica Jazz magazine at the Umbria Jazz Winter gala night.
XY Quartet's third album Orbite was released on April 12, 2017 by nusica.org. The release date is no coincidence: on April 12, 1961, Yuri Gagarin was the first man to journey into outer space and complete an orbit of the Earth. To celebrate the event U.N.E.S.C.O. established April 12 as the International Day of Human Space Flight, in 2011. The eight original compositions on Orbite, are dedicated to those men and women who were the first to explore Space with their epic, dramatic and sometimes even tragic or controversial stories. Fazzini and Fedrigo, bandleaders and founders of the group, were born in the 70's and they have lived the wonder of those pioneers' space flights. They have thus transferred in their music all those distant memories which have taken on an aura of a proper postmodern myth.
Musically speaking Orbite is a big step in the evolution of the quartet's musical language, going from jazz to contemporary music, from prog to post minimalism and from pop to the latest NY influences. To do so, they research and develop this new language in a creative and fluent way, putting together all these different musical codes in a very homogenous form.
Tickets are available for 1500 HUF on the spot,
online at jegy.hu, and at InterTicket Jegypont partners across Hungary.
Please don't forget to reserve a table after purchasing your ticket, as seating at Opus Jazz Club can only be guaranteed in this case.
We hold reservations until 8pm. Remaining tables are assigned on a first-come, first-served basis.
For reservations, please call +36 1 216 7894 and have your ticket or voucher at hand.
℗ BMC