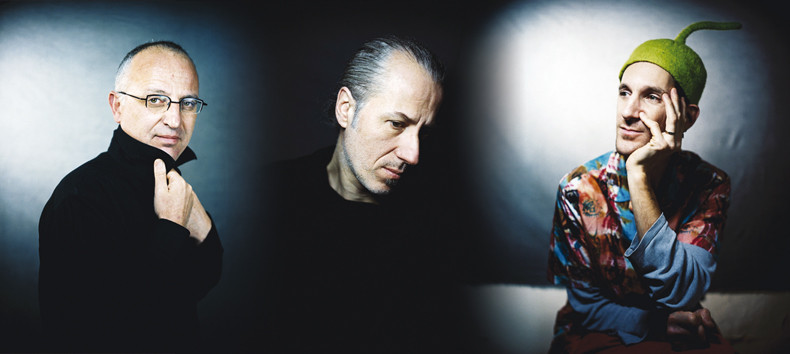 Trombone Boot Camp 2018
Opus Jazz Club
Featuring:
Yves Robert - trombone
Bruno Chevillon - double bass
Cyril Atef - drums
Yves Robert, born in 1958, is an emblematic figure of French jazz. He has played with Daniel Humair, Loius Sclavis, Joëlle Leandre; and among his international partners we find McCoy Tyner, Paul Bley, John Zorn, Derek Bailey, Nguyên Lê, Steve Lacy and Dee Dee Bridgewater, just to name a few. He studied flute and trombone at the Music Conservatory in Vichy and after finishing his studies he soon earned a growing reputation by playing in such well-known groups as Chris McGregor's Brotherhood of Breath, Bernard Lubat's La Compagnie Lubat, and the first edition of the Orchestre National de Jazz in 1986. Soon he created his own projects as well, revealing the wide range of his musical ideas. His first project as a bandleader was a trio with bassist Bruno Chevillon and drummer Aaron Scott, formed in 1988. He reached international fame through his highly acclaimed ECM releases, especially In Touch, released in 2002. He's had several groups and projects since, with music in the widest range, from electronica through hip-hop flavoured jazz to contemporary improvisations.
In February 2014 Opus Jazz Club hosted the Yves Robert Trio the first time, including Bruno Chevillon on double bass and Cyril Atef on drums. The musicians who use their instruments and the associated electronics to the ultimate limits of played an unbelievably impressive music to the audience of the club. The concert was a huge success and listening to it's recording afterwards, both the members of the trio and the BMC-Opus staff decided to release it in the jazz series of the BMC Records label, which resulted the critically acclaimed album, Inspired, released in 2015.
(Yves Robert) "the Vichy conservatory-trained instrumentalist easily demonstrates the slide-horn's innate adaptability in 10 instant compositions, accompanied by bassist Bruno Chevillon and drummer Cyril Atef. The effect is like attending a recital by sophisticate thespians able to expound comedy and tragedy with equal skill. Balancing like the three sides of a triangle, the bouncy and chunky chromatism invested in Inspired is inspired as much by the skills and talents of Chevillon's sluicing bass lines and Atef's positioned rattling as the brass playing. Still the bassist's guitar-like arpeggios help make a vibrating bed for vocalized, pinpointed slurs from the trombonist. Although there are places such as "Before the Bliss" where Robert's clenched but surprisingly spritely plunger work conjures up the mental picture of a dancing rhino, when coupled with sonic loops of instrumental and vocal timbre the results are cemented into unstoppable forward motion. Working with tropes as expected as vocalized slurs and as unforeseen as tongue flutters, the brass player is able to concede the foreground to his associates without a letdown in pace" wrote Ken waxman about the album.
The contact between BMC and members of the trio continued during the last 3 years and now the time became ripe to make a studio recording which will take place in the BMC Concert hall on the days after the Opus-gig.
Listen to Inspirine on spotify
Tickets are available for 1800 HUF on the spot,
online at jegy.hu, and at InterTicket Jegypont partners across Hungary.
Please don't forget to reserve a table after purchasing your ticket, as seating at Opus Jazz Club can only be guaranteed in this case.
We hold reservations until 8pm. Remaining tables are assigned on a first-come, first-served basis.
For reservations, please call +36 1 216 7894 and have your ticket or voucher at hand.
℗ BMC