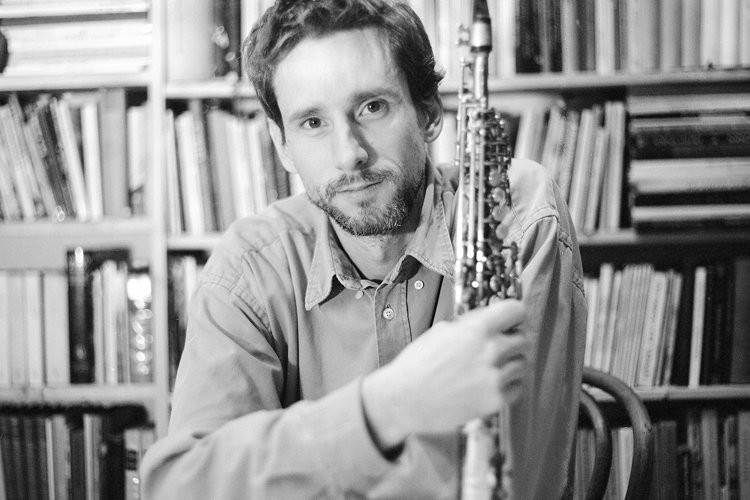 Dániel Váczi Multet: Reticular (HU)
Album debut
Opus Jazz Club
Featuring:
Dániel Váczi - sopranino and alto saxophone, compositions
János Ávéd - soprano and tenor saxophone
Márton Fenyvesi - electric guitar, effects
Balázs Horváth - double bass
Zsolt Sárvári Kovács - drums
"There is an angel, Sonifer, who stitches beadwork from the twelve colours of the rainbow.
From the beads gathered during the day, he makes the day's series at twilight, then repeating it he stitches his lace all night.
When it is done, he touches a few links of the chain with his finger: at dawn these are gleaming, one after the other, as he gazes at the finished garland"
The twelve colors - the sounds of the chromatic scale.
The sequence of colours - the reticulum.
The gaze on the chain - time.
The gleaming beads - the sounds to be heard.
This is reticular music.
Dániel Váczi is one of the most versatile musicians in the Hungarian musical scene. He develops a family of musical instruments and logical games, and as a musician he roams in the boundaries of jazz and classical / contemporary classical music, and writes music for the organ of Müpa. As a musical theorist, he developed a new musical system called reticular. He has recently been a fellow at the iASK Collegium Sonorum Music Center in Kőszeg, later becoming a creative colleague there.
The Dániel Multet Váczi is an expanded version of his trio founded in 2001. In their program, the reticulum concept, operating under strict rules, is combined with free improvisation. The band's debut album was released at the end of 2018 by Future Music Records.
https://danielvaczi.bandcamp.com
Tickets are available for 1500 HUF on the spot, online at bmc.jegy.hu,
and at InterTicket Jegypont partners across Hungary.
Please don't forget to reserve a table after purchasing your ticket,
as seating at Opus Jazz Club can only be guaranteed in this case.
We hold reservations until 8pm. Remaining tables are assigned on a first-come, first-served basis.
For reservations, please call +36 1 216 7894 and have your ticket or voucher at hand.
℗ BMC