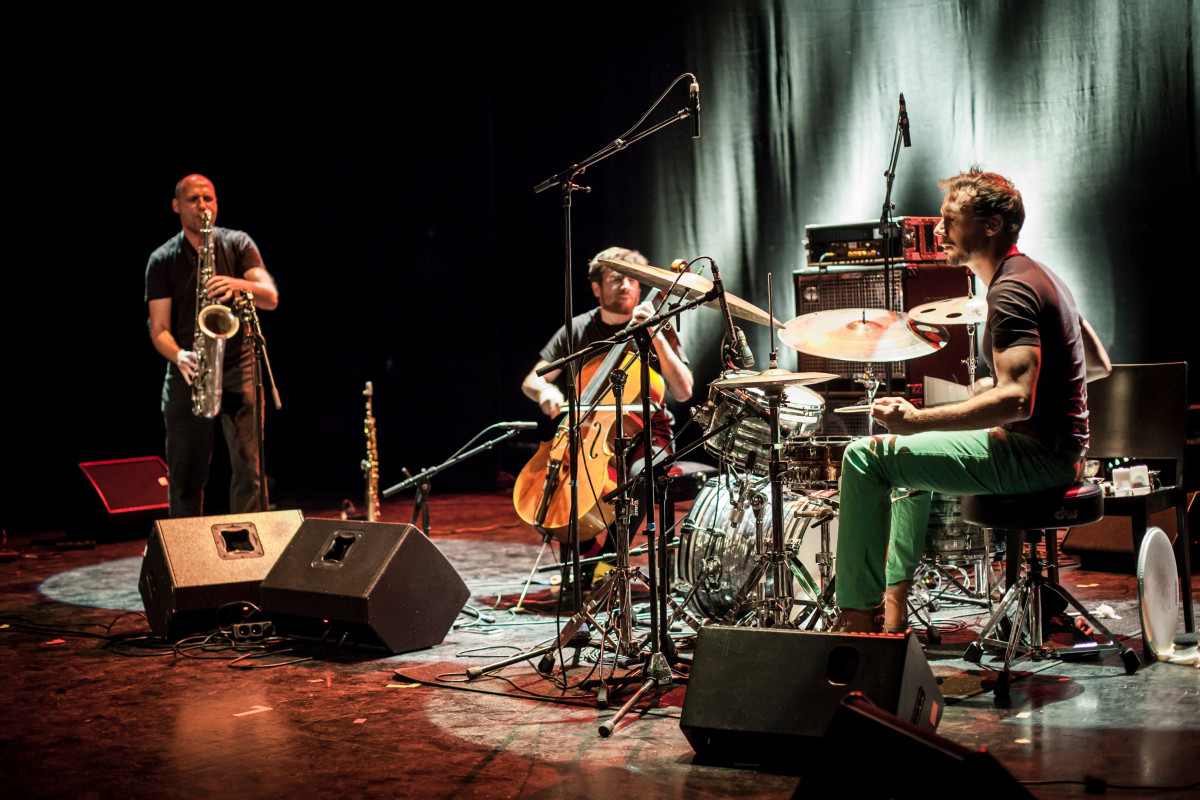 Festival de la Francophonie | Darrifourcq / Ceccaldi / Biardeau (FR)
Featuring:
Quentin Biardeau - saxophones
Valentin Ceccaldi - cello
Sylvain Darrifourcq - drums
"Hermia, Ceccaldi and Darrifourcq give an incredible music lesson: imbrication or clash of timbres, mastery of nuances, surprise of alloys of sounds, beauty of lyric passages ... Everything here is a source of delight." (Thierry Quénum, Jazzman)

"One of the most exciting groups in Europe." (Tony Dudley-Evans, London Jazz News)

"Beyond his obvious rage (to play / to live / to surprise), this trio shows a true band sound: original, bitter and contemporary." (Albert Laroux, Jazz news)

"Spontaneity, energy and urgency of the moment" (Nicolas Dourlhès, Citizenjazz.com) – just few words from some of the enthusistic critics about the trio.
A saxophone, a cello and drums. And in the middle of all that, a music of the extremes which briskly does the splits, passing without complex of a rush of tenderness to a swirl of rage. Of a baroque melody delicately shelled swelling into a noisy thunder. It isn't nothing, since they reach doing it while keeping a particularly accurate sense of sound textures and a rather rare control of dynamics.
Valentin Ceccaldi could be presented as the new revelation of cello in Europe. From experimental jazz to classical orchestras, its rough bow and its delicate pizzicati illuminates his music and our ears. We can feel his strong complicity with Sylvain Darrifourcq who after some great collaborations (Emile Parisien 4tet, Joëlle Léandre, Tony Malaby, Akosh S, Marc Ducret) develops his unpredictable and inventive music in his own bands In Love With and MILESDAVISQUINTET!. Together, they weave the ideal groundwork for the overlapping sax of Manuel Hermia, an adventurous saxophonist who furrows the roads of world music while carrying strongly alive the primal scream of a furiously libertarian jazz.
All three defend the idea of a music without borders, being nourished of all musics. A jazz of today like one says, smart and free at the same time, going from meticulous compositions to drifts without boundaries.
manuel-hermia.com/index.php/en/projects/hermia-ceccaldi-darrifourcq-trio
Tickets are available for 1800 HUF on the spot, online at bmc.jegy.hu,
and at InterTicket Jegypont partners across Hungary.
Please don't forget to reserve a table after purchasing your ticket,
as seating at Opus Jazz Club can only be guaranteed in this case.
We hold reservations until 8pm. Remaining tables are assigned on a first-come, first-served basis.
For reservations, please call +36 1 216 7894 and have your ticket or voucher at hand.
℗ BMC