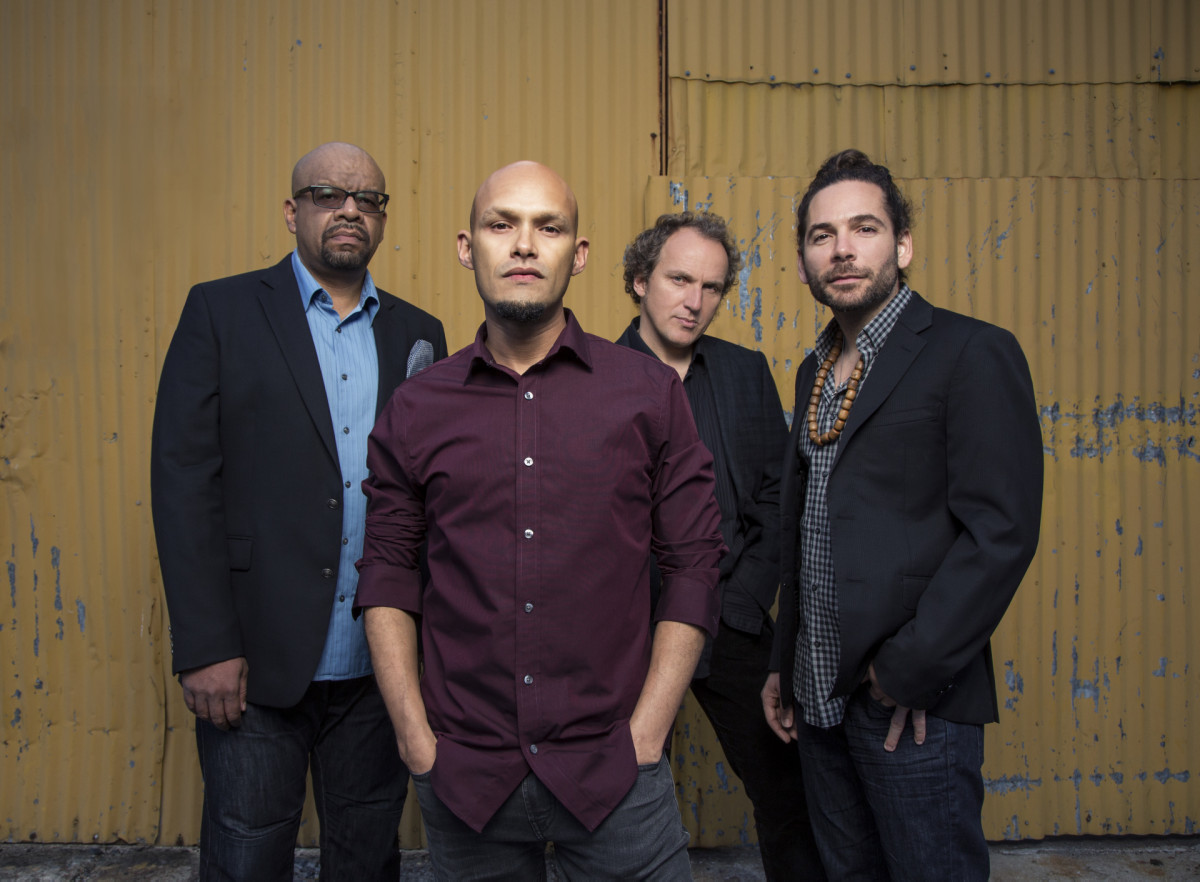 Miguel Zenón Quartet (USA)
Featuring:
Miguel Zenón - alto saxophone
Luis Perdomo - piano
Hans Glawischnig - double bass
Henry Cole - drums
Multiple Grammy Nominee and Guggenheim and MacArthur Fellow Miguel Zenón represents a select group of musicians who have masterfully balanced and blended the often contradictory poles of innovation and tradition. Widely considered as one of the most groundbreaking and influential saxophonists of his generation, he has also developed a unique voice as a composer and as a conceptualist, concentrating his efforts on perfecting a fine mix between Latin American Folkloric Music and Jazz.
Born and raised in San Juan, Puerto Rico, Zenón has released ten recordings as a leader, including Típico (2017) and the Grammy Nominated Identitites Are Changeable (2014). As a sideman he has worked with jazz luminaries such as The SFJAZZ Collective, Charlie Haden, Fred Hersch, Kenny Werner, David Sánchez, Danilo Perez, The Village Vanguard Orchestra, Guillermo Klein & Los Guachos, The Jeff Ballard Trio, Antonio Sanchez, David Gilmore, Paoli Mejias, Brian Lynch, Jason Lindner, Miles Okazaki, Ray Barreto, Andy Montañez, Jerry Gonzalez & The Fort Apache Band, The Mingus Big Band, Bobby Hutcherson and Steve Coleman.
Zenón has been featured in articles on publications such as The New York Times, The Wall Street Journal, The Los Angeles Times, as well as gracing the cover of Downbeat Magazine on two occasions (2010 and 2014). In addition, he topped both the Jazz Artist of the Year and Alto Saxophonist categories on the 2104 Jazz Times Critics Poll and was selected as 2015 Alto Saxophonist of the Year by the Jazz Journalist Association.
As a composer he has been commissioned by SFJAZZ, The New York State Council for the Arts, Chamber Music America, Logan Center for The Arts, The Hyde Park Jazz Festival, The John Simon Guggenheim Foundation, Jazz Reach, Peak Performances, PRISM Quartet and many of his peers. Zenón has given hundreds of lectures and master classes at institutions all over the world, and is a permanent faculty member at New England Conservatory of Music. In 2011 he founded Caravana Cultural, a program which presents free-of-charge Jazz concerts in rural areas of Puerto Rico. In April 2008 Zenón received a fellowship from the prestigious John Simon Guggenheim Foundation. Later that year he was one of 25 distinguished individuals chosen to receive the coveted MacArthur Fellowship, also known as the "Genius Grant".
Miguel Zenón's 10th album, Típico, is above all a celebration of his longstanding quartet. His past several releases have generally fleshed out that core unit with additional instrumentalists as Zenón has looked outward to explore various aspects of his Puerto Rican heritage. This new album feels more intimate. Its focus stays closer to home, with nods to Zenón's own personal and professional life as it zeroes in on what makes his band unique.
"I was thinking about what this band and the guys in the band mean to me as I was writing the music," he explains. "I kept going back to this idea of us developing this common language that identifies us as a band."
That language has been developing for more than a decade. Pianist Luis Perdomo and bassist Hans Glawischnig have been with Zenón since the turn of the millennium; Henry Cole joined the band in 2005. Their language is thoroughly fluent modern jazz, with all the instrumental prowess and rhythmic and harmonic complexity that that implies. But the dialect they've created together through the years is distinctive.
"Típico refers to something that's customary to a region or a group of people," Zenón says. "Or something that can be related to a specific group of people. And when I was writing the music, I was thinking about music that identified us and this band." It's no accident that the final three songs are named for parts of a tree. "I was thinking of the band as a tree" Zenón acknowledges. "And thinking of myself as the watcher. I mean, I'm part of it also. But mostly I'm observing these amazing musicians night after night, and how together they kind of make up this living organism."
Zenón is onto something with that metaphor. The spotlight cast by Típico illuminates how alive his quartet's music has always been, while never ceasing to evolve and grow.
Tickets are available for 1800 HUF on the spot,
online at jegy.hu, and at InterTicket Jegypont partners across Hungary.
Please don't forget to reserve a table after purchasing your ticket, as seating at Opus Jazz Club can only be guaranteed in this case.
We hold reservations until 8pm. Remaining tables are assigned on a first-come, first-served basis.
For reservations, please call +36 1 216 7894 and have your ticket or voucher at hand.
℗ BMC