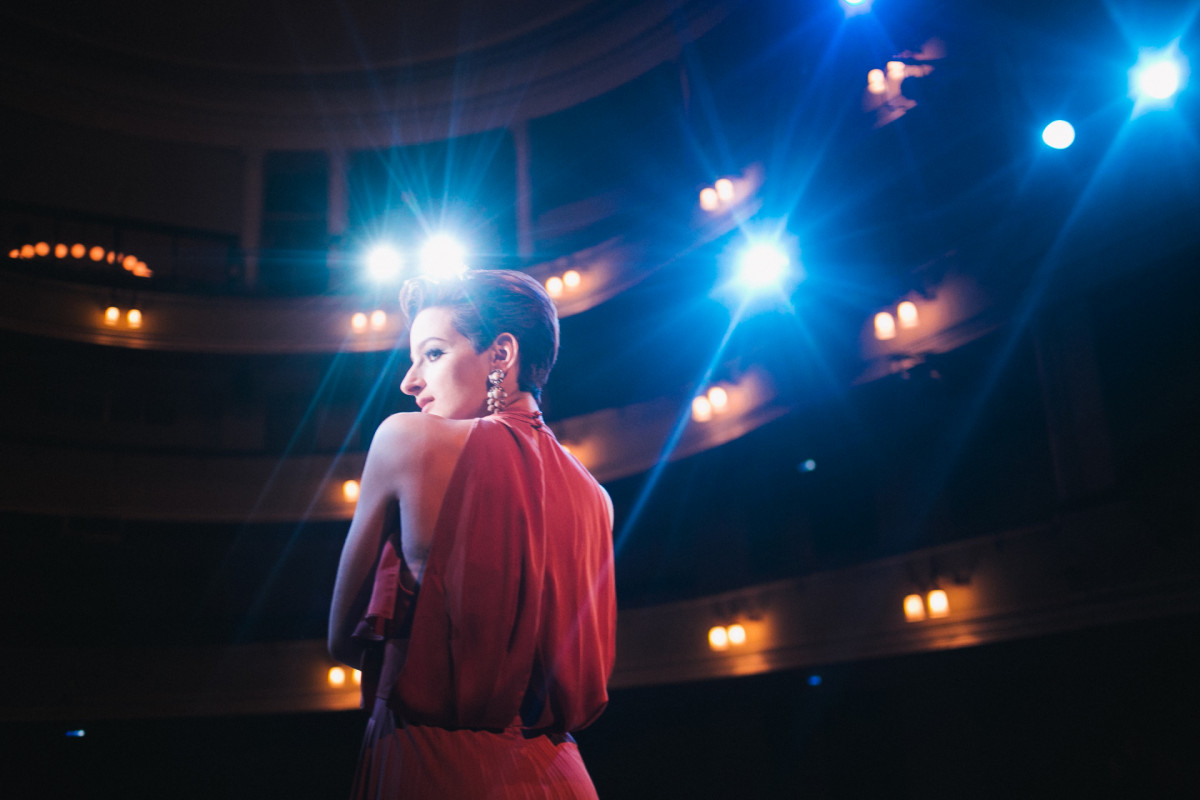 Polska Jazz – Voicingers Nights | Alina Rostotskaya Quartet (RU/PL/H)
Featuring:
Alina Rostotskaya - vocals
Kuba Mizeracki - guitar
Mariusz Praśniewski - double bass
András Dés - percussion
Alina's music can be described as acoustic fusion of jazz, Russian folk, and classical music. Rostotskaya won, or was among the finalists, at several international jazz competitions: Moscow Jazz Vocalists Competition (Grand Prix), Voicingers (Poland, 2nd prize), Riga Jazz Stage (Latvia, 3rd prize and Special prize), Nomme Jazz (Estonia, Special prize), Baku Jazz Competition (Azerbaijan, Grand Prix). In 2013, Alina was part of unique reality TV competition, Big Jazz (Russia Culture Channel), where she stayed until the very last round of the seven-steps competition.
She experiments with styles, sings both in Russian and English, and experiments with different techniques of instrumental singing (without words,) ranging from jazzy scat to modern classical vocalise. In April 2018 Alina Rostotskaya releases Flow, her debut album: seven pieces in different styles and moods, from Russian and Sephardic folk tunes, to Alina's original songs in Russian, and pieces with instrumental singing. Recorded at the Mosfilm studio in Moscow, the album was mixed and mastered by the legend of European jazz sound engineer, Jan Erik Kongshaug, at Rainbow Studio in Oslo.
The young Polish guitarist Jakub Mizeracki graduated with master degree from Music Academy in Katowice in 2017. He is a prizewinner of Grand Prix 52 Jazz Nad Odrą with the band Skicki-Skiuk. He has performed with many great artists including Leszek Możdżer, Adam Kowalewski, Piotr Schmidt, Jacek Kochan, Aga Zaryan, Adam Jarzmik. His compatriot, double bass player Mariusz Praśniewski, graduated at the Danish National Academy of Music in Odense, Denmark. During his scholarship at the Academy of Music and Drama, Göteborg, Sweden he studied under Anders Jormin. Currently he is a member of Danish and Polish formations such as the Jens Fisker Trio, the Łukasz Borowicki Quartet or the Grzegorz Karnas Formula. Hungarian percussionist András Dés has developed a unique percussion style over the past years. As a member of numerous successful jazz outfits he has been touring all around the world and has played at many important venues such as Carnegie Hall, Covent Garden, the Amsterdam Concertgebouw, the Damascus Opera House, the Jerusalem Theatre, the Cairo Jazz Festival or the Shanghai World Expo. He has also composed several film and theatre scores. Throughout his career, Dés has been crossing borders between genres. As a jazz musician he has worked with performers such as Miklós Lukács, Elemér Balázs, Zsolt Kaltenecker, Palle Mikkelborg, Frank London, Charlie Mariano, Theodossii Spassov, Ferenc Snétberger, Jack DeJohnette, Gerard Presencer, Eivind Aarset, Mihály Borbély, Eric Truffaz and Chris Potter. His openness to diverse forms of art is not limited to music.
---
Voicingers Festival, taking place yearly in Żory, Upper Silesia, Poland, lead by outstanding Polish singer Grzegorz Karnas, was born to provide the access to the most original and forthcoming music projects where improvisation is the axis and the key to ever blossoming freshness in music making. Besides working for the benefit of young professionals and those whose career has already been established, Voicingers Festival helps those for whom career in personal approach to singing is a path through life. Therefore the festival, besides concerts of renowned international artists, organizes also the International Jazz Contest for Singing Musicians, shapes young musicians through individual and group activities during the Voicingers Workshops, and provides a lot of further activities both for artists and the public.
Since a couple of years the co-operation between the Voicingers Festival, Hevhetia Records and Opus Jazz Club of Budapest Music Center is developing to a strong partnership, both in forms of participating in the Festival's jury as inviting winners of the Festival to the Opus, like Martyna Kwolek & Early Birds to Opus' annual Hevhetia Festival in last August. The present two-day event is another step forward in this process.
Tickets are available for 1500 HUF on the spot,
online at jegy.hu, and at InterTicket Jegypont partners across Hungary.
Please don't forget to reserve a table after purchasing your ticket, as seating at Opus Jazz Club can only be guaranteed in this case.
We hold reservations until 8pm. Remaining tables are assigned on a first-come, first-served basis.
For reservations, please call +36 1 216 7894 and have your ticket or voucher at hand.
℗ BMC