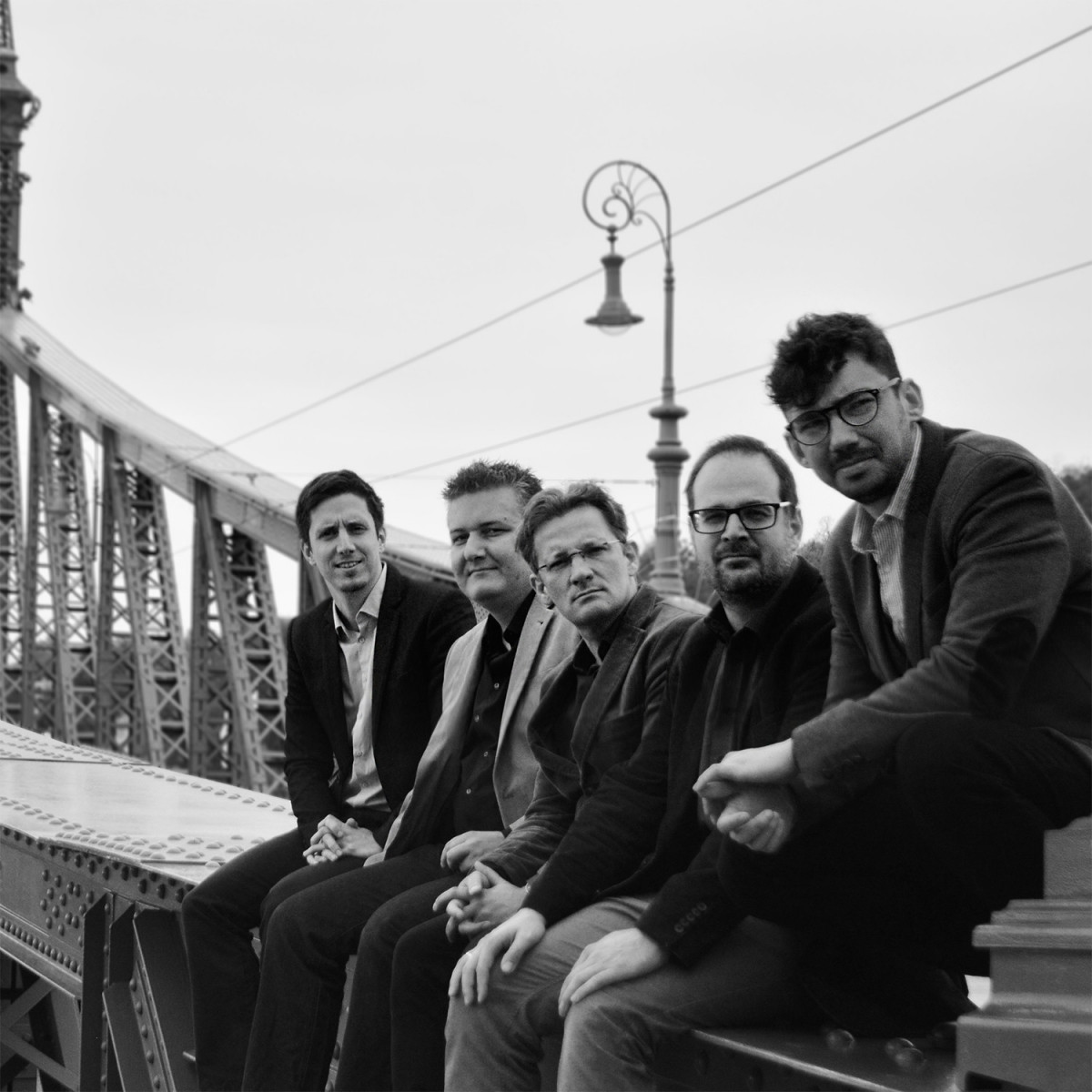 Szabolcs Oláh Quintet: Crystal Brook (HU)
Album debut
Opus Jazz Club
Featuring:
Szabolcs Oláh - guitar
János Ávéd - saxophone
Gábor Cseke - piano
Ádám Bögöthy - double bass
László Csízi - drums
Szabolcs Oláh's music reflects matters of the soul, flowing around with a balanced serenity. His new album, Crystal Brook, to be released in September 2019, goes further on the path he started years ago, but thanks to a fresh rhythm section, this time the path is wider than on his previous recordings.
Szabolcs Oláh discovered early that the composing is the right channel through which he can clearly express himself. After graduating from the Liszt Ferenc Academy of Music in 2005, already achieving some international success with his own quartet, he became the same year one of the founding members of the Modern Art Orchestra, one of Hungary's most unique bands, the cradle of the most progressive musicians, where anything can happen, where the various shades of styles are shamelessly blended with each other.
He founded his quintet hugely influenced by this atttude. Already on their first album, Connection (2013), the quintet's courageous, experimenting sound appears distinctly, followed in 2016 by Dream Path with an irresistible layer added to it by the voice of Panni Kalmár. Now, with the arrival of the bassist Ádám Bögöthy and drummer László Csízi, a new pulsation moved into the rhythm section.
The presence of László Csízi is unique. He can keep the rhythm with negligent looseness, however his cymbals can detach anytime from the body of the music and show the hidden features of the songs. For example, in Pearls Csízi opens with a strict tempo, and adds a fascinating shade, like a waving serpentine over János Ávéd and Szabolcs Oláh's beautiful unisonos, or in the title song, where Csízi's playing enhances the song's hymnical character. János Ávéd brings his subdued, but beautifully focused style, with a strong emphasis on melodies. He and Szabolcs Oláh are speaking the same dialect of music, the album is full of their beautiful dialogues interrupted by Gábor Cseke's monologues, while Ádám Bögöthy follows the music from a discrete distance.
Crystal Brook is fragile, yet flows smoothly. The dream-like moods that emerged from well-developed melodies have always been characteristic of the guitarist's music, but his compositions may never have been so crystal clear. It's not necessary to be a jazz fan to enjoy this album, as while just listening to it, it's easy to hear everything, what makes the jazz so special.
Tickets are available for 1800 HUF on the spot, online at bmc.jegy.hu,
and at InterTicket Jegypont partners across Hungary.
Table reservations are automatically added during ticket purchase. We hold reservations until 8pm.
For more information, please call +36 1 216 7894
℗ BMC