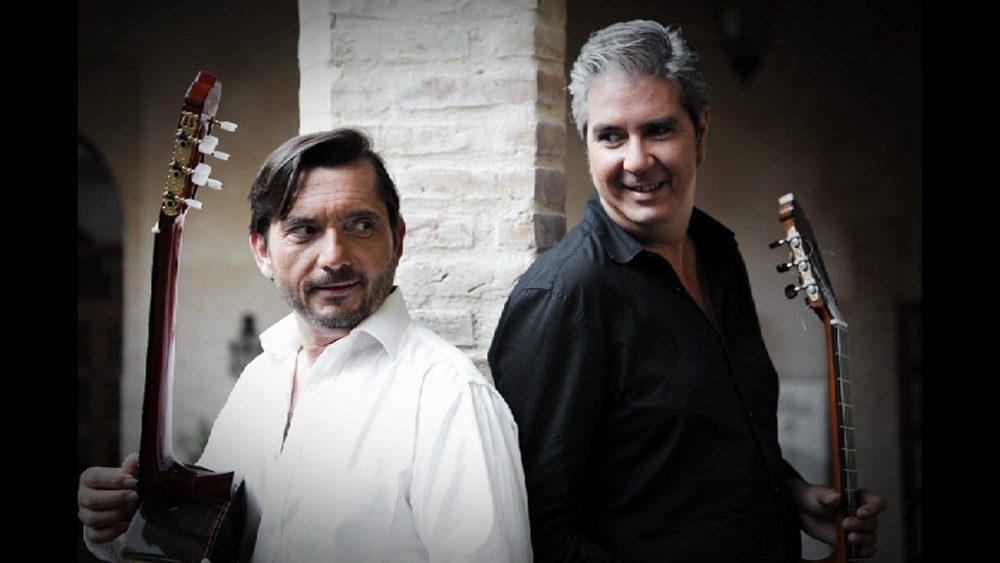 The Fascinating World of Spanish Guitar
Program:
José María Gallardo del Rey and Miguel Ángel Cortés:
Del Sacromonte al porvenir (Guajira)
Árbol de la bella sombra (Tangos)
Jabonero de la china (Bulería)
Noches de San Lorenzo (Preludio-Fuego-Plaza)
Nuestros mayores
Adagio flamenco & Aire de la cueva (Adagio & Tangos)
Bulería del 28 (Bulería)
M. Font de Anta:
Amargura
José María Gallardo del Rey and Miguel Ángel Cortés:
Silverio, ¡Qué Flamenco! Tangos/Rumba
Featuring:
Miguel Ángel Cortés – flamenco gitár
José María Gallardo del Rey – klasszikus gitár
"Lo Cortés no quita lo Gallardo", a pun on a Spanish old saying, is far more than what the names of these two remarkable performers may suggest.
"Lo Cortés no quita lo Gallardo" is an ambitious and thorough joint project where two of the most awarded international Spanish guitar players, Miguel Ángel Cortés and José María Gallardo del Rey, show us that the worlds of Flamenco and classic music, as far as Spanish guitar is concerned, rather than excluding each other, actually melt nicely together.
Based on original compositions, the duet perfectly combines classic and flamenco music proving with skills and fine delicacy that both worlds are deeply rooted in the common trunk from which the united styles and singular expressions flow sharing soul and strength. Actually we can describe it as a kind of a two-headed creative body.
The union of their performing singularities (which in both cases follow a very hermetic tradition) generates an impressive dialogue that within a contemporary classic-flamenco language, gives off full expressive power.
The responsibility of creating such an enormous task has been a real challenge to these artists, still achieved with remarkable success. "Lo Cortés no quita lo Gallardo" leads the most ambitious recent guitar challenges, which proves that something is changing in the world of making music.
This program has a big demand both nationally and internationally and, in fact, we can certainly assure that audience acceptance is granted.
Tickets are available for 2000 HUF on the spot,
online at jegy.hu, and at InterTicket Jegypont partners across Hungary.