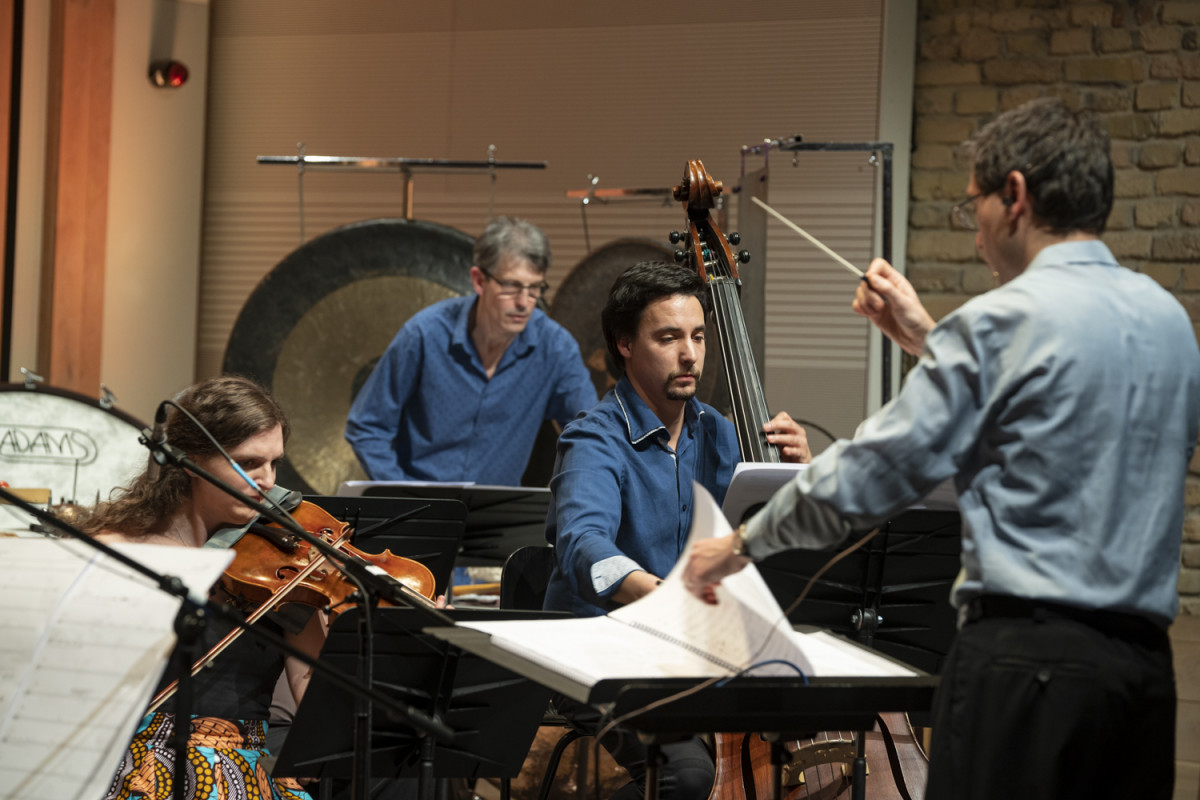 UMZE Ensemble: All'Ongherese
Program:
László Sándor: Two Volk Song Reworks
Attila Bozay: Mirror, Op. 28
Miklós Lukács: Improvisation
György Kurtág: Tre Pezzi, Tre altre Pezzi (Op. 38a)
Mátyás Bolya – Samu Gryllus: Prisoner Song
*****
Ádám Kondor: Hungarian Volk Song Forms
Gyula Fekete: All'Ongherese
Péter Tóth: Death Flowers – Premiere, for the order of the UMZE Chamber Orchestra
Miklós Lukács: Improvisation
Balázs Horváth: With Men's Eye / With Women's Eye
Featuring:
Ágnes Herczku – vocal
Mátyás Bolya – zither, lute
Balázs Szokolay Dongó – recorder, tárogató
Helga Debreczeni-Kis – zither
Miklós Lukács – cimbalom
András Szalai – cimbalom
UMZE Chamber Orchestra
Conductor: Balázs Horváth
All'Ongherese – Magyarosan… Gulyás, paprika, jobb esetben csárdás, és ha műveltek vagyunk, akkor népzene, Bartók és Kodály. Milyen ma és milyen volt évtizedekkel ezelőtt a zeneszerzők viszonya a magyar népzenéhez? Feldolgozás, átalakítás, népzenei gesztusok. Allúziók, hangszeres improvizáció. Népzenei előadási stílus és újzenei technikák, jazz és etno-irányzatok. Sorolhatnánk a szempontokat, amelyek felől ma megközelíthető a magyar népzene. E lehetőségek közül néhányat felvillantva a közönséggel együtt szeretnénk feltenni a kérdést, vajon más lesz-e egy kompozíció, ha eltérő esztétikai indíttatás mentén jön létre? Merthogy a művek szerzői nagyon különbözőek, nem csak születési idejüket tekintve.
Tickets are available for 2000 HUF on the spot,
online at jegy.hu,
and at InterTicket Jegypont partners across Hungary.
Season Ticket: 6000 HUF
Next Concerts of the Season: 22 October, 28 November, 16 January, 20 March, 30 April