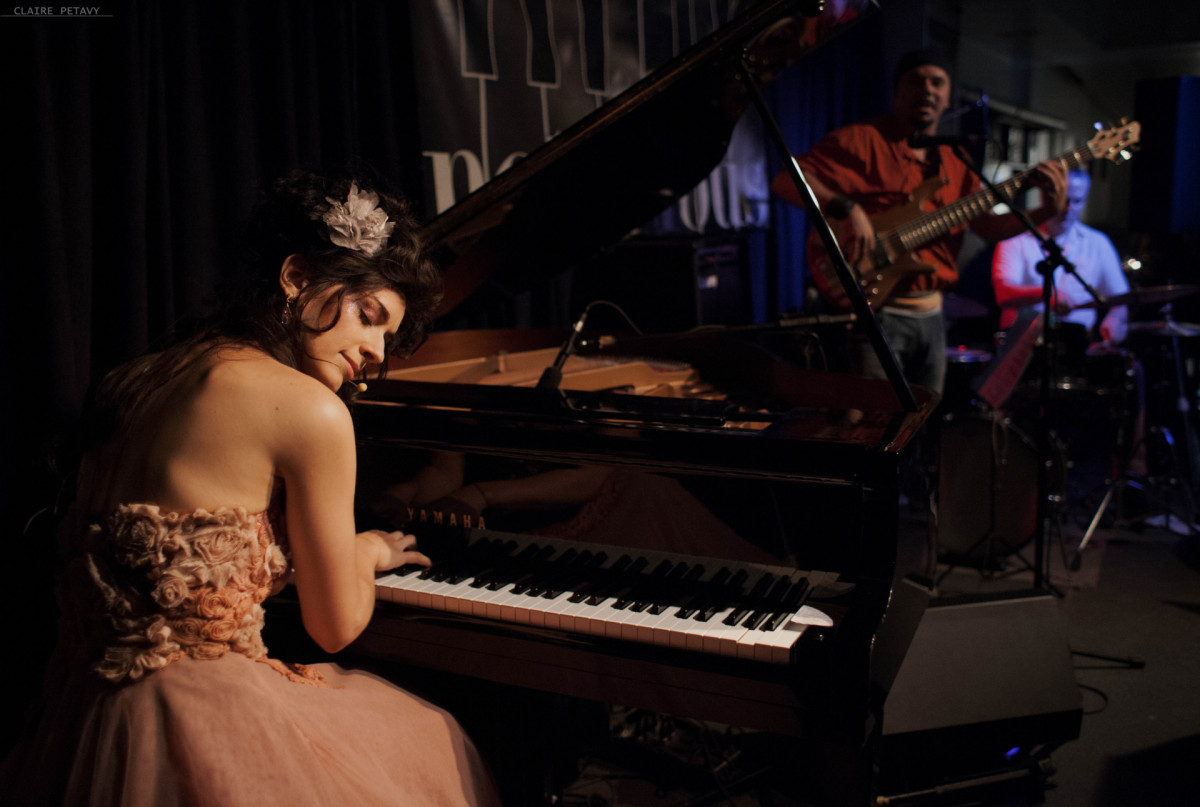 Take the MOL Train | Bianca Gismonti Trio: Gismonti 70 (BR)
Featuring:
Bianca Gismonti - piano, voice
Antonio Porto - electric bass, acoustic guitar, voice
Julio Falavigna - drums
Bianca Gismonti was born in a family of musicians. Since a very young age, she would attend her father's concerts, accompanied by her mother - actress Rejane Medeiros - and brother - guitarist Alexandre Gismonti. Her house was full of musical influences, being also a meeting point for dozens of important artists whom Bianca got to know. At the age of nine, she asked to start taking piano lessons. Already at fifteen, she launched her musical career as an accompanist to her father, on various stages around the world for many years. Her piano studies carried on at UFRJ University in Rio until 2005, when Duo Gisbranco (a piano duo with peer Claudia Castelo Branco) made its debut, having since recorded three albums and two DVDs, with allied musical partnerships with the likes of composer Chico César, cellist Jaques Morelembaum and singer Monica Salmaso.
Along these years, the habit of composition followed her footsteps as a natural path until, in 2013, she launched her first self-authored album, Sonhos de Nascimento on Biscoito Fino, with guest participation of percussionist Nana Vasconcelos, among others. After this record, she made international tours around Europe, Asia and South America. At the end of 2015 her second album, Primeiro Céu was released on the Fina Flor label, having since established the trio formation besides her husband Julio Falavigna on drums (who also co-produced both albums) and Antonio Porto on bass. In 2016, Primeiro Céu was released also by Impartment Records in Japan and by Quinton Records in Austria, allowing for a new round of tours over Europe, Africa and Asia, during which the trio's new album, Unveiling Seas (to be released in 2018) was recorded in Budapest, by Hunnia Records.
All throughout, besides her own compositions, her fathers'repertoire remained part and parcel of her soul, being somewhat always present during the performances. Celebrating Egberto's 70th Birthday in December 2017, Bianca decided to put together a full set-list in his honour, with many of the compositions which became hallmarks of his career. Classics such as Palhaço, Lôro, Água e Vinho or Maracatu are included in the program which promises to captivate audiences worldwide in 2018.
Tickets are available for 1500 HUF on the spot,
online at jegy.hu, and at InterTicket Jegypont partners across Hungary.
Please don't forget to reserve a table after purchasing your ticket, as seating at Opus Jazz Club can only be guaranteed in this case.
We hold reservations until 8pm. Remaining tables are assigned on a first-come, first-served basis.
For reservations, please call +36 1 216 7894 and have your ticket or voucher at hand.
℗ BMC