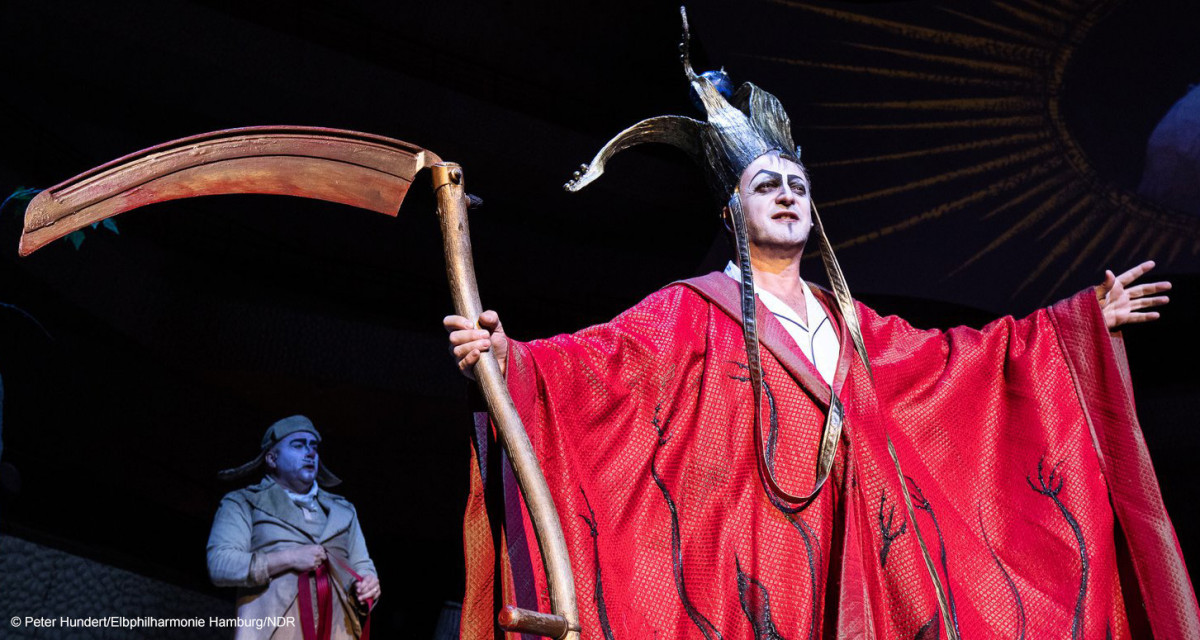 Program change! │ Hommage à Ligeti - Le Grand Macabre - Opera film
"What does Ligeti mean to me?
The intuition that there is something higher, more perfect than I could ever imagine, that there are connectionc in art, in the sciences, in the cosmos, about which he knows - and here my sentence breaks off."
György Kurtág
György Ligeti, one of the most influential composers of the late 20th century, would have been 96 years old on 28th of May.

Le Grand Macabre (1974–77, revised version 1996) is the only opera by Hungarian composer György Ligeti. The opera has two acts, and its libretto – based on the 1934 play La balade du grand macabre by Michel De Ghelderode – was written by Ligeti in collaboration with Michael Meschke. Le Grand Macabre was premiered in Stockholm on 12 April 1978. In preparation for a 1997 production at the Salzburg Festival, Ligeti made substantial revisions to the opera in 1996, tightening the structure by means of cuts in scenes 2 and 4, setting some of the originally spoken passages to music and removing others altogether. The revised version was premiered in Salzburg on 28 July 1997, in a production directed by Peter Sellars.
Ligeti's (1923-2006) absurd-tragicomical masterpiece of the highest order blends popular theater, comics, pop art, cabaret, caricature and the Apocalypse with fascinating imaginativeness. The orchestra, for example, is enhanced with "instruments" such as car horns and doorbells. Ligeti himself called his work an "anti-anti-opera." The story unfolds in an imaginary land inspired by the famous Dutch painter Pieter Brueghel the Elder: Nekrotzar, the Grand Macabre, announces the end of the world; but in a land ruled by eros, alcohol and corruption, his plan to unleash the Apocalypse bursts like a soap bubble. The people continue to lead their lives as before and refuse to be frightened by thoughts of death and a dark future...

»An exhilarating success, a brilliant performance of Ligeti's daunting score and a disarming production.« That was the New York Times' verdict after three sold-out performances of György Ligeti's opera »Le Grand Macabre« – a milestone of modern music theatre, which Alan Gilbert, in collaboration with Doug Fitch, producer Edouard Getaz and Giants Are Small, presented in New York for the first time in May 2010. As part of the Hamburg International Music Festival – which has a special focus on Ligeti's music this year – the NDR Elbphilharmonie Orchestra now brings the much-vaunted production to Hamburg with a version specially adapted for the Elbphilharmonie.
LE GRAND MACABRE
Opera in two acts, 2019, 120 min.
(In English with German subtitles)

Featuring:
NDR Elbphilharmonie Orchester
NDR Chor (Chorus master: Klaas Stok)
Conductor: Alan Gilbert

Costume design: Catherine Zuber
Lighting design: Clifton Taylor
Assistant director: James R. Smith
Scenic and projection design, director: Doug Fitch
cast:
Werner Van Mechelen - Nekrotzar
Mark Schowalter - Piet vom Fass
Wilbur Pauley - Astradamors
Claire de Sévigné - Venus
Audrey Luna - Gepopo
Heidi Melton - Mescalina
Elizabeth Watts - Amanda
Marta Fontanals-Simmons - Amando
John Relyea - Black Minister
Andrew Dickinson - White Minister
Anthony Roth Costanzo - Prince Go-go
Rob Besserer - actor
Original production by Giants Are Small directed by Doug Fitch and produced by Edouard Getaz. Adaptation by Elbphilharmonie Hamburg and NDR © 2019 Giants Are Small LP. All rights reserved.

More:
- Elbphilharmonie, Hamburg
- New York Times
- Program booklet (Hamburg)
- Program booklet (New York)
Entry to the program is free, but due to the limited number of seats a primary registration via e-mail (papp.krisztina@bmc.hu) is requested, latest by 12:00 27th May, 2019. Thanks for your understanding!

℗ BMC