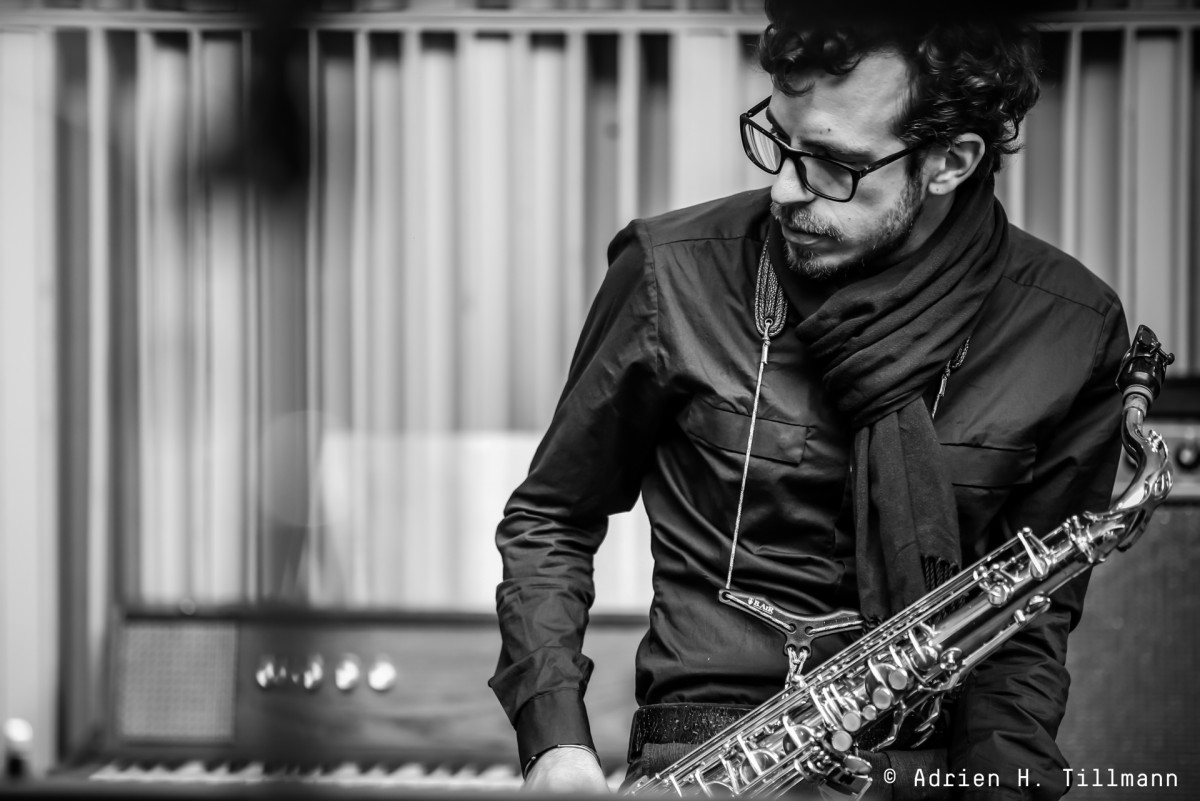 Featuring:
Oded Tzur - tenor saxophone
Nitai Hershkovits - piano
Petros Klampanis - double bass
Amir Bresler - drums
"Urgency coexists with Zen-like calm on the darkly brilliant sophomore album by tenor saxophonist Oded Tzur. The dynamics of his fearless quartet mirror its ever-shifting storytelling intent. A student of Indian classical music, Tzur is an architect of stealth, meticulously building his tunes from the ground up. At times, his very quietude seems to roar; the way he starts and ends Single Mother suggests a volcano on the ocean floor. An explorer of the microtonal and a player of such restraint and patience that his explosions are particularly startling, Tzur delivers a unique sound, giving his instrument pioneering dimension and depth."
Carlo Wolff, Downbeat Magazine on Oded Tzur Quartet: Translator's Note, 2017. Enja Records
Oded Tzur is a New York City based saxophonist, composer and bandleader. His work draws influence from the art of storytelling and explores relationships between ancient and modern musical traditions. His two albums on Enja Records (2015 & 2017) have earned his music the title: "A new type of Swing", and won extraordinary critical acclaim in Japan, South Africa, Europe, Russia and the US. Tzur's unique language of improvisation takes the listener on a journey many describe as "musical storytelling", and evokes deep contrasts between silent passages and dramatic crescendos.
Coming from the Tel Aviv jazz scene of the 2000's and a protégé of the classical saxophone master Prof. Gersh Geller, Oded Tzur's musical background consisted of rigorous training in a number of musical styles. His curiosity for improvised music led him to discover the ancient art of Indian classical music, which has become the main focus of his work. In order to pursue the rare prospect of playing Indian music – a style heavily based on microtonality – on a western instrument such as the saxophone, Tzur dedicated about 10 years to the work of developing a new saxophone technique: "A Middle Path", as it was later named. The technique, a result of arduous research, enables the saxophone to move between the notes and highlight specific microtones.
In 2007 Tzur was admitted to the Indian music program at the Rotterdam World Music Academy, where he was the first saxophonist to learn from the legendary Indian flutist – Pt. Hariprasad Chaurasia. Chaurasia's elegant phrasing, spiritual depth and rhythmic mastery have had a profound influence on the saxophonist's music. The work process consisted of countless sessions in which Chaurasia would play a melody on the Bansuri – the Indian flute – and Tzur would then have to translate it onto the saxophone. Following the flutist's intricate style has refined Tzur's technique to the point where it started attracting attention from the international saxophone community.
Saxophonists from Sydney to San Fransisco have been learning about Tzur's technique and its possible implications. He was also invited to lecture on the subject at a number of key institutions, such as Trinity College of Music, London, the Copenhagen Conservatory, the Amsterdam Conservatory and more. "For a subject that started as a solitary practice and was deemed impossible at first, it's humbling to see the attention and interest the technique has received during the past few years", says the saxophonist.
In 2011, Tzur moved to New York and established the Oded Tzur Quartet. This step marked a shift in the scope of his work as a composer: sliding not only between the notes of the saxophone, but also between the melodic universes of Indian classical music and jazz. Since its creation, the quartet has toured Europe and the U.S, presenting audiences with its captivating language of improvised music. The quartet's two albums on Enja Records, Like a Great River (2015) and Translator's Note (2017) were released to extraordinary critical acclaim and established Tzur as a singular voice in today's jazz scene.
SOLD OUT!
Please don't forget to reserve a table after purchasing your ticket, as seating at Opus Jazz Club can only be guaranteed in this case.
We hold reservations until 8pm. Remaining tables are assigned on a first-come, first-served basis.
For reservations, please call +36 1 216 7894 and have your ticket or voucher at hand.
℗ BMC