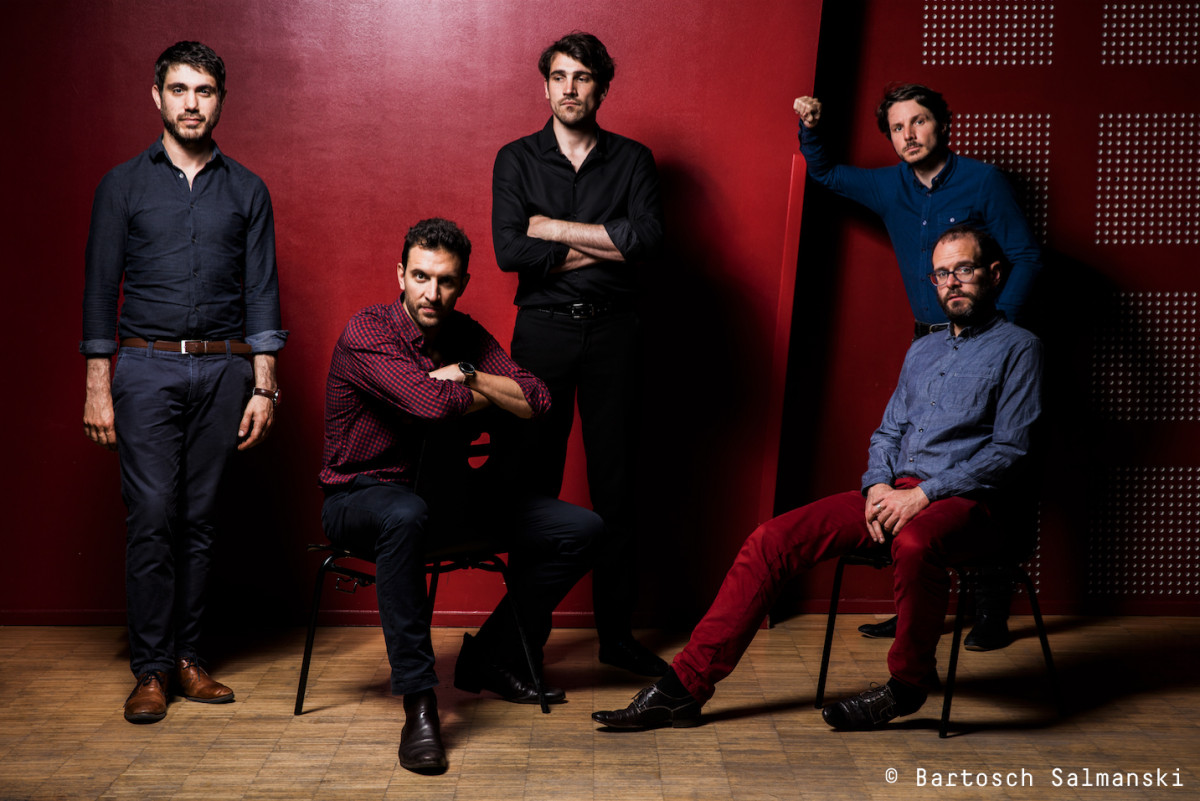 Featuring:
Tam de Villiers - guitar
Julien Soro - saxophones
Guillaume Nuss - trombone
Édouard Séro-Guillaume - bass, composition
Stéphane Scharlé - drums, composition
Where to begin? How does one describe OZMA? The group, whose members are in their early thirties, was founded in 2001 and is a sort of UFO in the jazz world where projets are created and undone as encounters happen…
Since their beginnings, OZMA takes us on a ride. Think of Rage Against the Machine featuring Coltrane, Ray Anderson jamming with Radiohead or Frisell sitting in with the best New Orleans brass bands. The improbable is the essence of OZMA; a generous, creative and joyous mixture, exciting and adventurous, risky and captivating, as much for the wise connoisseur as for the curious neophyte.
Then there's the name, OZMA. Ancestor to NASA's SETI project which, using enormous satellite dishes in the Nevada desert, tried to detect signs of intelligent life. Science fiction, the imaginary, the dream is not far away. It's a clue, OZMA is enjoying itself…
OZMA is also 15 years of voyages and endless encounters, more than 250 concerts on 4 continents, collaborative projects in Burkina Faso with Mandingo musicians in 2008, in Nepal in 2009, in Canada in 2010, the incredible transcontinental show of OZMA and Darpana, created in Gujarat in 2012 with Indian dancers and musicians, "20!" in South Africa in 2014 and, of course, OZMA Orkestra, elaborated in Alsace with an additional 6 horns. OZMA loves it!
For their new, 6th album, Welcome Home, the joy of putting together the original line-up is tangible, with memories of five years of touring and an abundance of stories to tell: from dancing all night in the maquis bars of Ouagadougou to the old Soviet charm of the stunning Olympic Hotel in Minsk; from the wooden stage built by a dozen Indians just hours before their concert in New Delhi, to the Aurora Borealis they just missed while in the Arctic in Tromso, Norway. OZMA narrates… These stories of life give birth to songs. But the inverse is also true, the songs evoke stories…
Welcome Home is all the class and flippancy of five cheeky guys with masterful technique, a good dose of humour and emotion, probing, nervous melodies, pop anthems, formidable grooves, wild growls, whispered secrets, ravaging riffs, surplus energy, devilish jousts, counterparts with counterpoints, dreamlike countries and sonic explosions. OZMA's Welcome Home is contemporary jazz, free and nourished by all musical styles, a condensation of all that music can offer, the "Ozmic" sound.
---
OZMA is supported by Drac Grand Est, Region Grand Est, Ville de Strasbourg, Institut Français, Adami, Sacem - Copie Privée, Spedidam
Tickets are available for 1500 HUF on the spot,
online at jegy.hu, and at InterTicket Jegypont partners across Hungary.
Please don't forget to reserve a table after purchasing your ticket, as seating at Opus Jazz Club can only be guaranteed in this case.
We hold reservations until 8pm. Remaining tables are assigned on a first-come, first-served basis.
For reservations, please call +36 1 216 7894 and have your ticket or voucher at hand.
℗ BMC