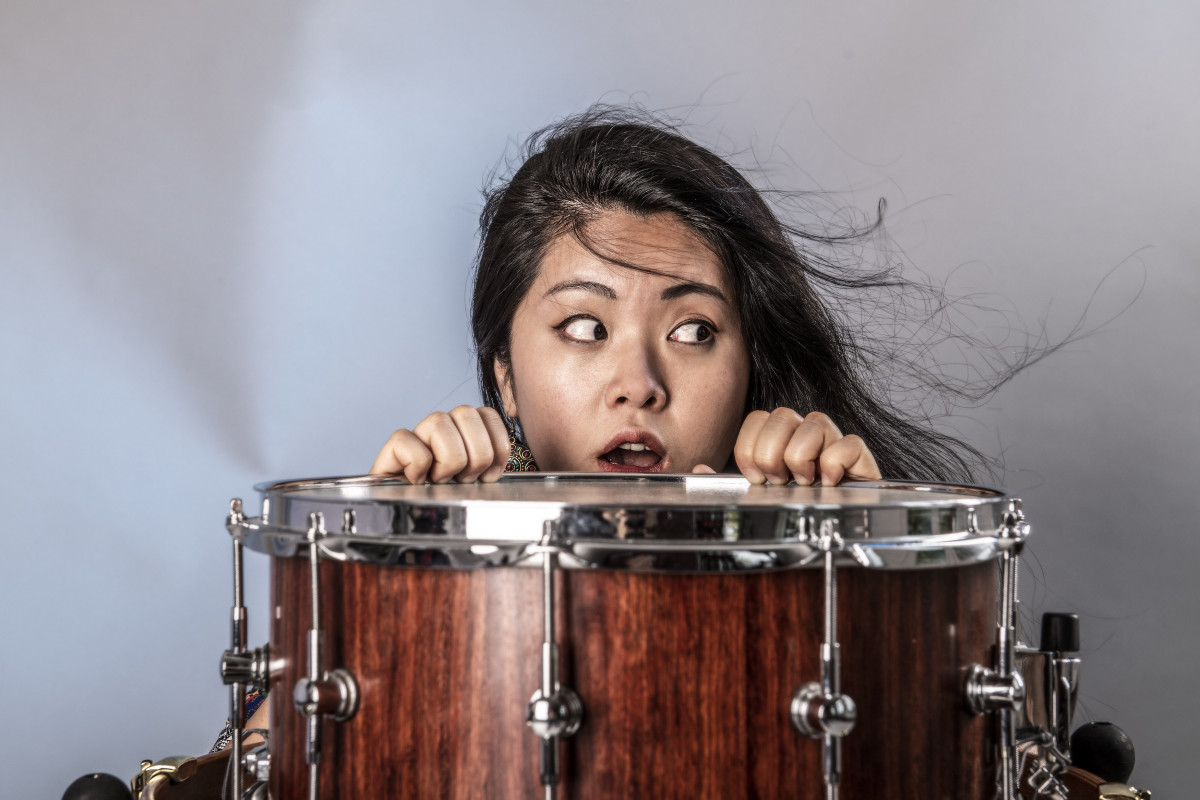 Sun-Mi Hong Quintet & Song-Yi Jeon (KR/IT/UK/CAT)
Featuring:
Song-Yi Jeon - vocals
Nicolo Ricci - tenor saxophone
Alistair Payne - trumpet
Xavi Torres - piano
Alessandro Fongaro - double bass
Sun-Mi Hong - drums
Sun-Mi Hong is considered one of the most exciting drummers based in Europe. After the debut album launch in 2017, her quintet has become a recognized and award winning ensemble that stretches the sonic envelope. Sitting on the periphery of tradition while often dipping her toes into the avant-garde, Sun-Mi is set on delivering a highly personal second album, entitled A Self-Strewn Portrait.
The album itself is aiming to toy with the emotions of the listener, as if walking through life's swings and roundabouts. The compositions reflect moments of Sun-Mi's past told in a present tense. These moments are not told through the actions of what happened, but more the feelings that happened. Sun-Mi is quite open with the fact that moving to Europe was a struggle in many ways. But also simply the greatest and most rewarding decision she ever made. This struggle colliding with the sheer elation of feeling welcome is reflected in the song writing.
A Self-Strewn Portrait has an air of premeditation around it. Although much of the music creation was left up to the moment, Sun-Mi etched a hypothetical line through everything that was recorded. It was a clear aim from the beginning of the process that this album would sound like an album as a whole, as opposed to individual songs.
At this concert, singer and composer Song YI Jeon will join the formation. Song YI Jeon deftly combines modern jazz harmony and odd time signatures with singable melodies that instantly catch the ear of the listener. Song YI showed creative promise from an early age when she starting with Piano, Korean traditional singing, Korean traditional percussion, and drawing. She studied classical composition at the University of Music and Fine Art in Graz, Austria and Jazz vocals at the Music University in Basel, Switzerland and Berklee College of Music in Boston, USA where she developing her unique sound. Through her background in classical composition, she uses her understanding of harmonic structure to create incomparable improvisations. Song YI's music is heavily influenced by instrumental Jazz Music, and her refined compositions have a clear musical direction with her signature 'east meets west' sound.
facebook.com/drummersunmihong
instagram.com/_sun_music
www.songyimusic.com
Tickets are available for 2000 HUF on the spot, online at bmc.jegy.hu,
and at InterTicket Jegypont partners across Hungary.
Hungarian immunity certificate is required for entering Opus Jazz Club.
Please note that masks are also required while visiting, except when consuming food and drinks.
Table reservations are automatically added during ticket purchase.
For the best dining experience please arrive around 7pm.
We hold reservations until 8pm.