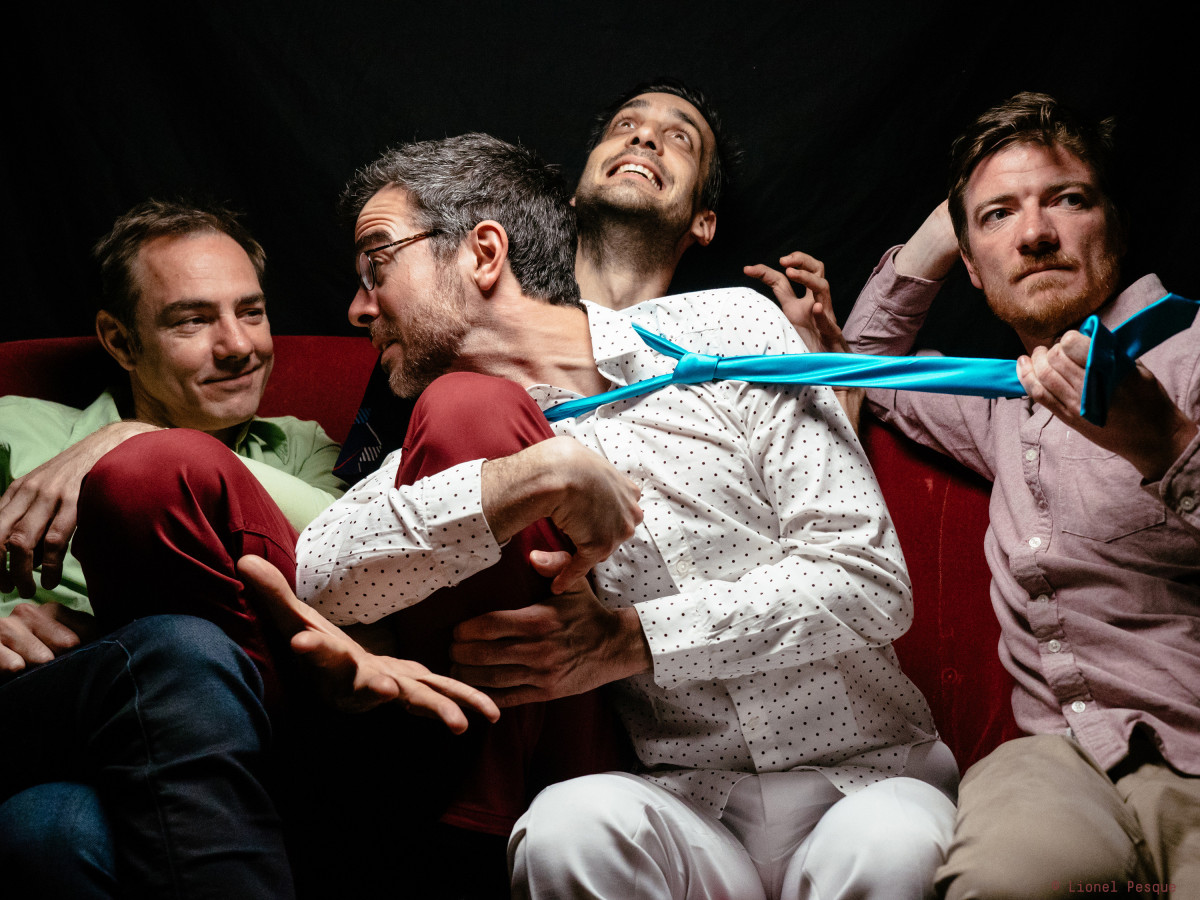 CANCELLED | Vive le Jazz! | Pulcinella (FR)
FESTIVAL DE LA FRANCOPHONIE
Opus Jazz Club
Featuring:
Ferdinand Doumerc - saxophones, flute
Florian Demonsant - accordion
Jean-Marc Serpin - double-bass
Pierre Pollet - drums
Dear Guests,
In accordance with the state of emergency declared on March 11 in Hungary, Budapest Music Center is cancelling all of its events between March 14 and April 13, 2020 as a force majeure measure. For events after April 13, ticket sales are suspended until further notice. Please check BMC's website for further announcements.
Tickets purchased online will be automatically refunded by Interticket. Tickets purchased in person are refundable at the point of purchase.
We appreciate your cooperation and understanding.
Budapest Music Center
March 12, 2020
---
"The music of Pulcinella is traditional and avant-garde, wild and domesticated, precise and extravagant, it achieves a kind of union of opposites, and that is doubtless what makes is seem so vivacious" – Pascal Rozat JAZZ MAGAZINE
For 15 years, this playful Toulousain band has not grown tired of doing everything it wants. With a drums, a double bass, an accordion and a saxophone, Pulcinella mixes funk, jazz, Balkan music, electro, musette, progressive rock… to create a polymorphic and borderless music. With more than 600 concerts on the clock, Pulcinella gets real on stage, it has performed in prestigious festivals such as Jazz in Marciac, the Festival Radio France, Rio Loco, Jazz sous les Pommiers, the London Jazz Festival, the Odessa Festival… They travelled the roads of some twenty countries such as Honduras, Guatemala, Bulgaria, Tajikistan, Moldova, colombia, India and even Vietnam to celebrate the 1000 years of the capital Hanoi!
Greedy of encounters, the quartet always likes to collaborate with other artists. In addition to his creations with musicians (Émile Parisien, Leïla Martial, Andreas Schaerer, Hervé Suhubiette… ), they like to rub shoulders with other artistic fields. They composed music of theatre play and filmconcerts, collaborated with dancers, illustrated text readings, accompanied circus acts…
They created Le Grand Déballage (futuristic dancing ball where mazurka, afrobeat, waltz and merengue clash one on the other) in 2017 and started a new musical adventure with Italian singer Maria Mazzotta in June 2019. In addition, Pulcinella released their 6th album in quartet, Ça, on BMC Records in September 2019 and at the same time mounted a new repertoire with the Colombian trio La Perla.
pulcinellamusic.com
facebook.com/pulcinellamusic
instagram.com/pulcinellamusic
Dear Guests,
In accordance with the state of emergency declared on March 11 in Hungary, Budapest Music Center is cancelling all of its events between March 14 and April 13, 2020 as a force majeure measure. For events after April 13, ticket sales are suspended until further notice. Please check BMC's website for further announcements.
Tickets purchased online will be automatically refunded by Interticket. Tickets purchased in person are refundable at the point of purchase.
We appreciate your cooperation and understanding.
Budapest Music Center
March 12, 2020
℗ BMC