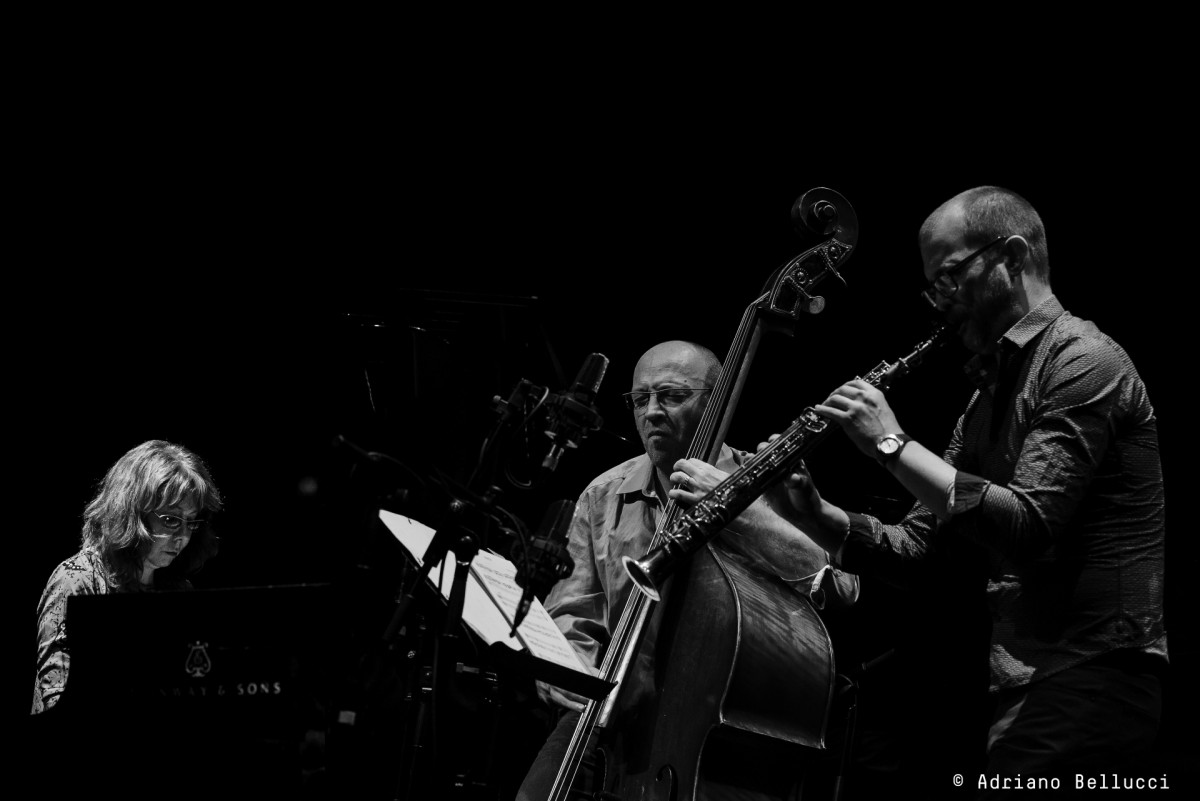 Festival de la Francophonie | Wood & Rita Marcotulli (F/I)
Featuring:
Rita Marcotulli - piano
Matthieu Donarier - saxophones
Sébastien Boisseau - double bass
After being imposed as one of the major duets of the current jazz, Sébastien Boisseau and Matthieu Donarier continue their adventure by inviting the great Italian pianist Rita Marcotulli to join them. The success of their first meeting in June 2016 in Rome during a beautiful concert at the Auditorium Parco Della Musica triggered their common desire to work out a new original program.
Quoted among the «120 cult duos of jazz history » by the renowned French Jazz Magazine, Wood is a stage group first of all who rely on instant and instinct to put apart and reassemble their compositions ceaselessly, improvise hymnes to love, improbable rhythms which follow the ebb and flow of the unknown, bird songs that have never been heard before. Their music flows naturally: no one knows where the improvisation starts and where the writing ends.... it is one of the strenghts of this duo, which definitely confirms the complicity between such fine artists as Sébastien Boisseau and Matthieu Donarier. Fans of BMC Records can recall their numerous appearances on albums with Gábor Gadó, Gábor Winand, Hans Lüdemann and so forth. They are also well known for visitors of Opus, entering its stage many times with many different outfits.
Rita Marcotulli is the Great Dame of Italian jazz, subtle and breathtaking, always very inventive in a multitude of projects. Thanks to a series of prestigious collaborations, including Richard Galliano, Chet Baker, Enrico Rava, Charlie Mariano, Dewey Redman, Kenny Wheeler, Peter Erskine, and Steve Grossman, in a few years after her start in the eighties she established herself as an important figure in the contemporary jazz scene. Her duo concert with accoridonist with Luciano Biondini at the Opus on the 2014 CAFe Budapest remains one of the unforgettable events in the history of the club. Her unprecedented encounter with the two renowned Loire Valley musicians, Matthieu Donarier, regular saxophonist of Daniel Humair's groups, and Sébastien Boisseau, bassist of Michel Portal and Louis Sclavis, among others, is a magnificent musical proposition. With refinement as a code of conduct, rich in lyricism, it's a true Franco-Italian "musical conversation"!
sebastienboisseau.com
matthieudonarier.com
facebook.com/rita.marcotulli.50
Tickets are available for 1800 HUF on the spot,
online at jegy.hu, and at InterTicket Jegypont partners across Hungary.
Please don't forget to reserve a table after purchasing your ticket, as seating at Opus Jazz Club can only be guaranteed in this case.
We hold reservations until 8pm. Remaining tables are assigned on a first-come, first-served basis.
For reservations, please call +36 1 216 7894 and have your ticket or voucher at hand.
℗ BMC