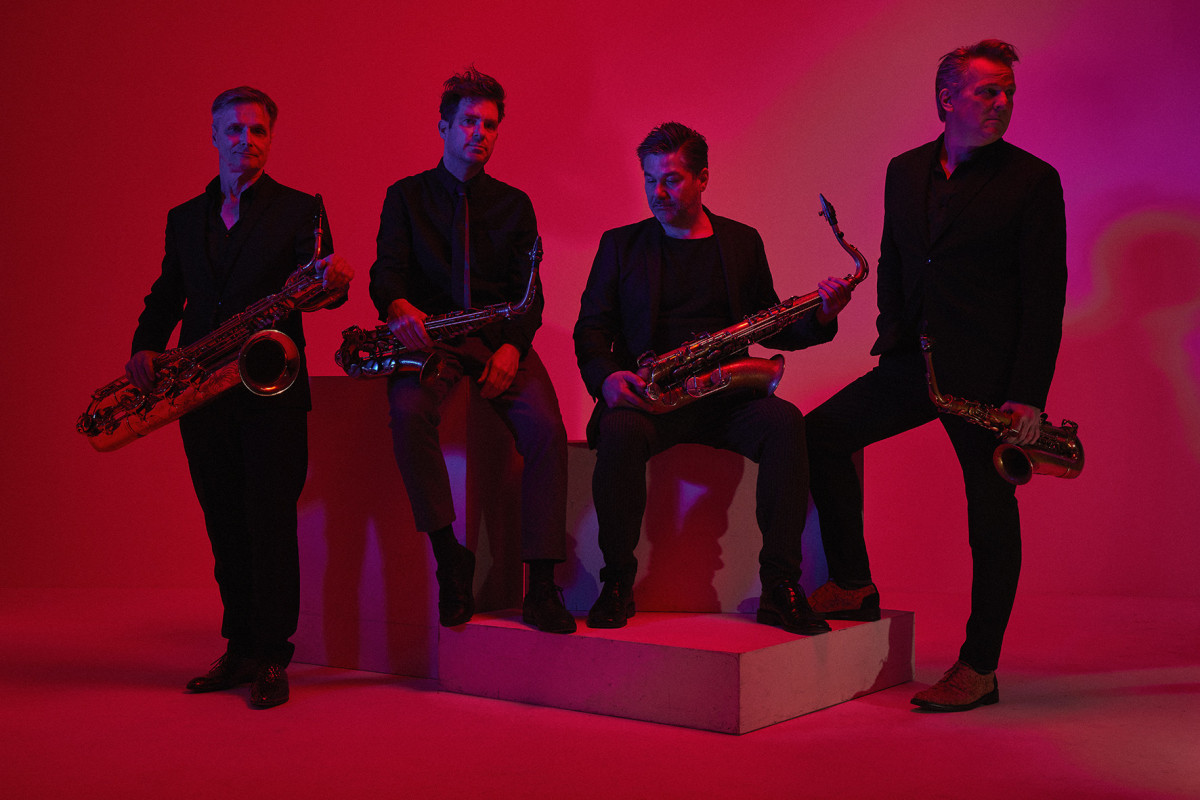 Dutch Focus | Artvark Saxophone Quartet (NL)
Featuring:
Rolf Delfos - alto saxophone
Bart Wirtz - alto saxophone
Mete Erker - tenor saxophone
Peter Broekhuizen - baritone saxophone
Gallery tickets will be available on the spot even if the online ticketing system tells you that the show is sold out.
Please order your drinks downstairs at the bar if you are seated on the gallery.
---
"Artvark's music is alternately meditative and exciting and has a very visual character. It never gets boring, because at the right time the alto sax players snatch you from the upcoming hibernation. It's that playfulness, ever remaining musical, that is the characteristic of this musical ensemble. The music of Artvark sounds fresh and new every time" – Jazzenzo Cyriel Pluimakers on Trance
"The smooth flow of rhythmic arrangements embedded in the African and European music traditions are moody and playful: a fertile ground for Rosie's passionate lyrics... Together they form a lively entity with multiple dimensions due to the stirring saxophone solos of the quartet" – Jazzenzo on Homelands
Away with chairs! Away with music stands! Artvark moves! Artvark stands for innovative original compositions, strong individual soloists and the adventurous groove of four saxophones. The quartet meanders through musical traditions, sometimes on the intersection of classical and jazz, while always soulful and with blues, and sways across the stage according to an improvised choreography. Artvark thrills, Artvark stinks, growls and sizzles. Rolf Delfos (alto sax), Bart Wirtz (alto sax), Mete Erker (tenor sax) and Peter Broekhuizen (baritone sax) blend their different backgrounds to form a unanimous, creative and unique sound; the sound of Artvark!
On 21 September 2021 saxophone quartet Artvark released their 10th album Mother of Thousand which will also be presented in the Opus Jazz Club. Completely new music, inspired by the music of Arvo Pårt and Aphex Twin. Artvark has retreated in their self-built studio for the past year. The search for that one truffle has never felt so urgent. This time the compositions were not created at the individual desks, but in the studio itself. The quartet started to experiment based on first ideas. New roads and new sounds were the result. On the album you can hear original Adolph Saxes from 1860, very rare slide saxes from 1920, a baritone recorded with a snare drum between sax and microphone, and a whole quartet moving from left to right through the speakers. A dreamy world of sound and space, hypnotic patterns and genuine blues. A soundtrack for the ultimate road trip.
Tickets are available for 2000 HUF on the spot, online at bmc.jegy.hu, and at InterTicket Jegypont partners across Hungary.
Table reservations are automatically added during ticket purchase.
For the best dining experience please arrive around 7pm.
We hold reservations until 8pm.
For more information, please call +36 1 216 7894
℗ BMC